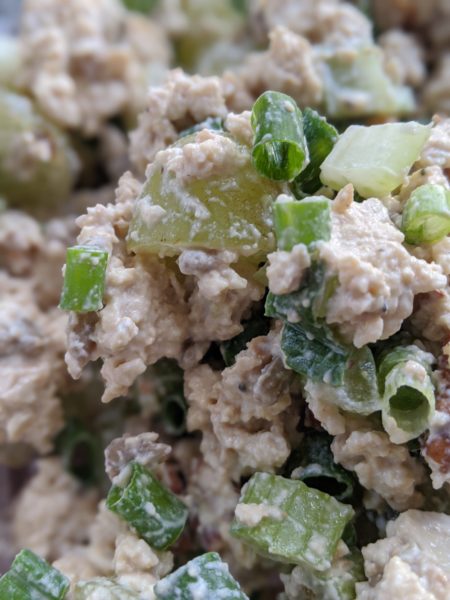 Who knew that tofu was going to end up being the protein of choice for my ultra easy, ridiculously tasty, nutritious, and beautiful vegan chicken salad?
I teach high school art and art history and school lunches are always tricky. I never have an opportunity to leave my classroom, so it needs to be something that can be eaten room temperature or cold out of my lunch bag. And it needs to be filling, but not make me sleepy, and it's best if I can nibble on it for a while. I keep a bottle of mouthwash in my cabinet so that I can eat spicier food, but it's best not to permeate the room or myself with strong and potentially offensive aromas.
This chicken salad is delicious at school, at home, or even for company. You can add 1/8 to 1/4 teaspoon poultry seasoning if you like, but I feel the flavor is a little overpowering. So I keep it really simple. I have spiced it up a touch with some ancho chili powder or smoked paprika, but I think plain is my favorite. My partner, Bob, loves Chicken sandwiches with mayonnaise and capers. I thought about adding some, but after I sniffed the capers, which I actually like, it just wasn't the flavor profile I was going for. As for texture, definitely mash the tofu rather than dicing it.
I would recommend trying it as published and then playing with it to your heart's content.
Best-Ever Vegan Chicken Salad
7 ounces baked tofu (I use Nasoya brand)
2 tablespoons mayonnaise (I use no calorie mayonnaise from Harris Teeter unless I have made some of my 8 to 10-calorie Blooming Platter Mayonnaise which is only 10 calories per tablespoon, but use Vegenaise or whatever you prefer)
2 tablespoons vegan sour cream
1/4 teaspoon garlic powder
1/4 teaspoon onion powder
Sea salt and freshly ground black pepper to taste
10 to 12 firm green grapes, quartered
1 celery heart sliced lengthwise into quarters and then finally diced
4 to 5 very thin green onions very finely sliced (used two to three if thick)
2 tablespoons roasted and lightly salted sunflower seeds
8 to 10 plump pecan halves, roasted or not, broken into pieces
Using your fingers, crumble tofu into a medium bowl. Add mayonnaise, sour cream, garlic powder, onion powder, and salt and pepper to taste. Fold in remaining ingredients, taste, and serve immediately or refrigerate. This salad is delicious served with fresh vegetables as scoops, on a toasted whole wheat sandwich with curly lettuce, stuffed in a tomato for a truly vintage presentation, perched stop crackers, etc.
#vegan #veganrecipes #veganfoodshare #veganfoodporn #plantbased #plantbasedrecipes #plantbasedfoodshare #plantbasedfoodporn #veganchickensalad #plantbasedchickensalad