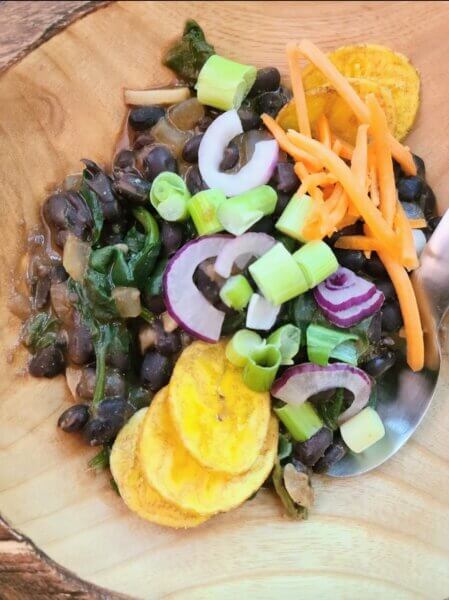 Yield: 2 servings (or more if served with other dishes)
This satisfying island-fusion dish is beautiful and beautifully balanced. It only serves 2 because you will want to devour it all. Note: I like the larger amount of spice.
1/2 large yellow onion, diced
2 to 3 large cloves garlic, thinly sliced
Sea salt
1 can black beans, rinsed and drained (I buy low sodium)
1 to 2 teaspoons ground coriander
1 to 2 teaspoons ground cumin
1 to 2 teaspoons smoked paprika
1/8 teaspoon ground cinnamon
1-15.5 ounce can coconut milk (I use light)
4 big handfuls baby spinach and kale leaves
1 tablespoon lime juice or something acidic (I used the brine from homemadr escabeche)
Garnishes: shredded carrots, sliced red onions, sliced green onions, halved cherry tomatoes, etc.
Accompaniments: plantain chips (I buy at Trader Joe's)
Barely cover the bottom of a large skillet with water, bring to a simmer over medium heat, add onion, garlic, and a pinch of salt, and saute until tender, adding more water if necessary. Stir in black beans, spices, and coconut milk, and heat through, stirring. Add half of greens and stir to wilt. Follow with remaining greens. Stir in lime juice or other acid, and serve, garnished as desired, with plantain chips.
#vegan #veganrecipes #veganfoodshare #veganfoodporn #plantbased #plantbasedrecipes #plantbasedfoodshare #plantbasedfoodporn #vegansofinstagram #vegansoffacebook #vegansofvirginia #plantbasedblackbeans #veganblackbeans #plantbasedgreens #vegangreens