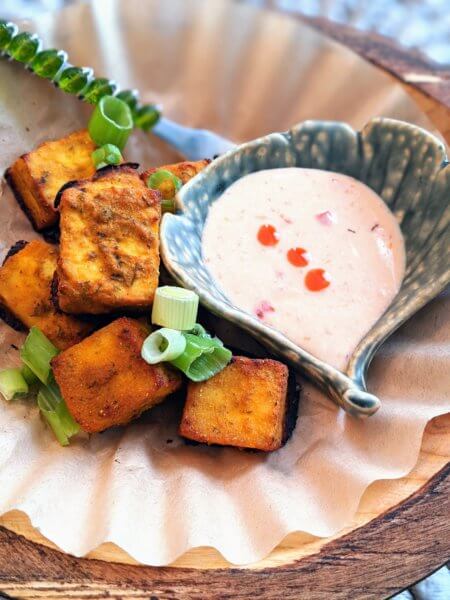 Yield: 2 dozen cubes
My crunchy oil-free batter is gluten-free because it requires no flour. That's right: I mix GF nutritional yeast with dill pickle juice and spices before battering and baking these crispy cubes. I love my spice blend, but substitute other spices to suit your mood. Crunchy-on-the-outside and tender-on-the-inside, these nuggets are nutritious and delicious on their own, but even more mouth-watering with a dipping sauce.
16 ounces extra-firm tofu (wrap in paper towel, place on a rack over a bowl, weight–I place the carton on top with a heavy canned good inside–and drain while making batter)
1/2 cup dill pickle juice
1 cup nutritional yeast
1/2 teaspoon each of the following spices (or to taste; feel free to change proportions or substitute): celery seed, ground coriander, garlic powder, onion powder, smoked paprika, tumeric
Sea salt and freshly ground black pepper to taste
Dipping Sauce: equal parts vegan mayo and sweet chili sauce, whisked together (I use Walton Farms no-calorie mayo from Harris Teeter)
Optional garnish: sliced green onions
Preheat oven to 425 degrees. Spray baking sheet liberally with non-stick spray. In tofu carton or small bowl, whisk together dill pickle juice, nutritional yeast, and spices. Unweight and unwrap tofu and blot again with paper towel. Slice in half horizontally and then into quarters the long way and thirds the short way, making 2 tiers of 12 cubes. Working with a few cubes at a time, place in batter, turn to coat, and place about 1.5 inches apart on prepared baking sheet. Bake 20 to 25 minutes or until golden and crispy. Avoid burning around edges. Serve immediately with dipping sauce, garnished if desired.
Note: in the photo, I decorated the top of the sauce with 3 dots of Sriracha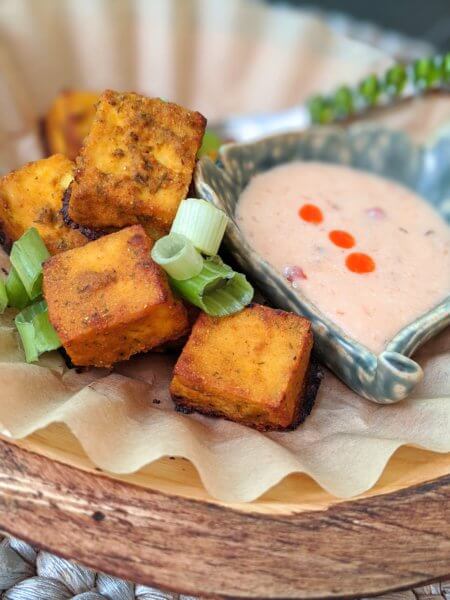 #vegan #veganrecipes #veganfoodshare #veganfoodporn #plantbased #plantbasedrecipes #plantbasedfoodshare #plantbasedfoodporn #vegantarts #plantbasedtarts #veganfriedtofu #ovenfriedtofu #plantbasedfriedtofu