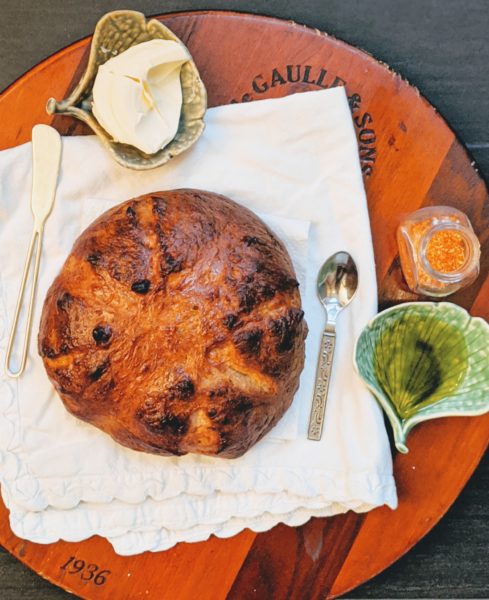 This is the easiest bread I have ever baked, and tastiest I have ever eaten. I can't wait to experiment with flavored oils and vegan butters to serve with it.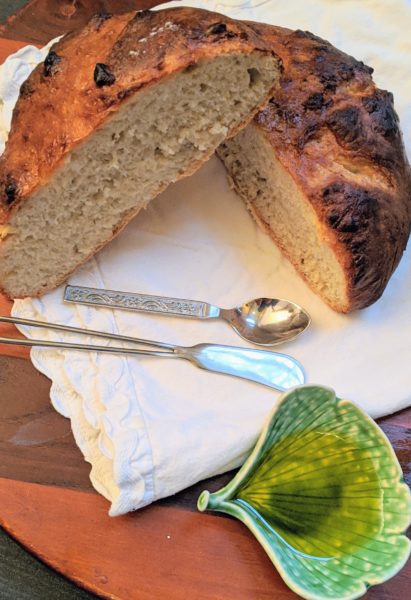 Homemade Boules
Yield: 2 loaves (each serves approximately 4)
2 cups lukewarm water (100°F)
1 tablespoon natural sugar
2 teaspoons active dry yeast
1 tablespoon coarse sea or kosher salt
Optional (but recommended): 1 teaspoon garlic powder
4 cups all-purpose flour

In an 8 cup or so bowl, mix together water, sugar, and yeast. Stir in sea salt and garlic powder if using. Stir in flour, 1 cup at a time. The dough will be somewhat wet. Let rise, loosely covered (so gasses can escape), in a warm place for 2 hours. (To create a warm place, I preheat my oven to warm, turn it off, and let it sit while mixing the dough. Too warm of an oven will kill the yeast.)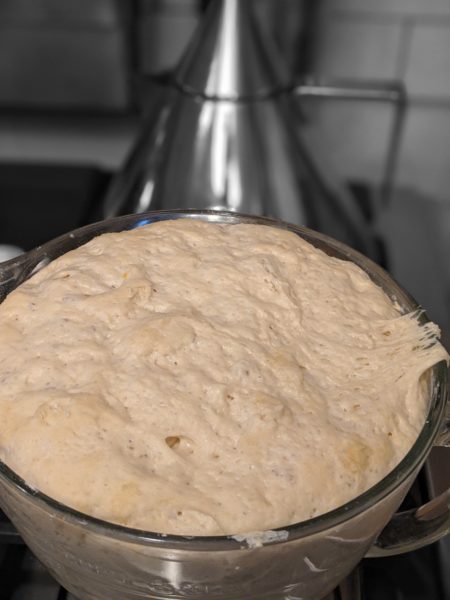 When ready to bake a loaf, generously flour your hands and lightly flour a board or work surface. Scoop out half the dough onto the board. No need to knead. Just gather the dough together, turning it once or twice and then gently pull dough from the bottom over the top to form a round domed disk shape. (This is called gluten cloaking.) Refrigerate remaining dough, loosely covered.
Tear off a piece of parchment paper large enough for your pizza stone or baking sheet, place the dome of dough on it, and let it rest for 40 minutes. It will puff and fill out just slightly.

Preheat oven and pizza stone or baking sheet to 450° and maintain that temperature for the remainder of the rest period. Just before baking, with a VERY sharp knife, a straight razor blade taped to a popsicle stick, or a French lame ("lahme"), cut simple marks or a design into the dough about ½-1 inch down. The sharper the blade, the less drag, and the cleaner the cut. (There are YouTube tutorials if you want to get fancy.)
To bake, place 1 cup ice cubes in a metal baking sheet or pan on the rack beneath the pizza stone. (Glass could shatter.) This will create steam while the loaf is baking.

Carefully transfer parchment paper with rested dough onto pizza stone. Bake for 20 minutes, slide parchment paper out from under loaf so that bottom crust can fully crisp, and bake 10 more minutes.

Remove from oven and allow to cool on wire rack. Let loaf rest for 5 to 10 minutes to avoid gumminess. Brush with olive oil, if desired, and slice with a serrated knife. Serve warm with flavored or plain olive oil and/or vegan butter.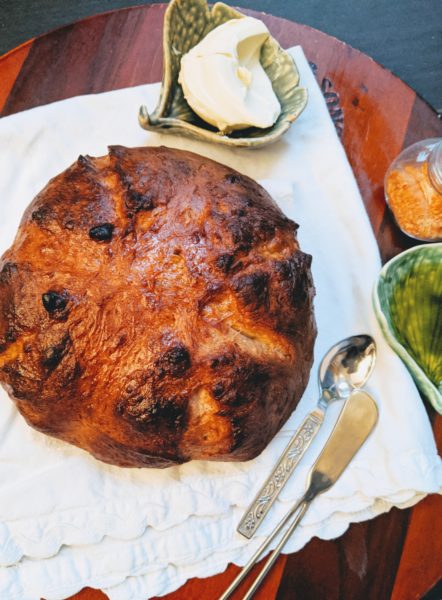 #vegan #veganrecipes #veganfoodshare #veganfoodporn #plantbased #plantbasedrecipes #plantbasedfoodshare #plantbasedfoodporn #homemadebread #boules #nokneadbread