Yield: 12 peppers ( 3 to 4 servings)
I'm not sure what inspired this creation other than seeing these beautiful peppers in the grocery store and craving something creamy, and decadent, but without doing calorie damage.
I had actually been craving a cheesecake that I make with a spicy peanut and ginger snap crust. However, since we can't entertain during this pandemic and only two of us and our beloved mutts live here, I knew I didn't need a whole cheesecake on hand.
So I went in a savory direction and I am so glad I did! The flavor and texture, not to mention the brilliant color, is seductive. And best of all the peppers are exactly the right consistency to pick up with chopsticks and eat in three or four bites.
12 tri-color mini-Bell peppers, stem and sliced off and seeds in membrane removed (there won't be much and removal is a snap)
1/2 diced yellow onion
Approximately 1 cup water
Pinch sea salt and more to taste, as needed
Approximately 4 cups riced cauliflower
1 clove garlic, minced, raw or roasted
1/3 to 1/2 cup canned coconut milk (not the coconut milk beverage in a carton)
1/4 cup plus 2 tablespoons vegan fish sauce (sold as vegetarian in Asian markets)
1 to 2 teaspoons sesame oil
1 teaspoon soy sauce
Approximately one handful let serving fresh baby spinach or kale
Approximately 1/4 cup spiced roasted peanuts, chopped
Optional garnish: fresh Thai basil and cilantro
Oil an 8-in casserole dish, preferably ceramic or glass, and set aside. Preheat oven to 350°. In a large skillet ever medium to medium-high heat, place onion, pinch of salt, and about 1/4 cup water. Saute onion, stirring, until it begins to soften. Add cauliflower, garlic and more water. Saute until very tender, adding more water as necessary, but cooking until almost all moisture is released and evaporated. Stir in coconut milk, 1/4 cup fish sauce, sesame oil, and soy sauce, and continue cooking and stirring until virtually all moisture is absorbed or evaporated. This could take a few minutes. The texture should be that of risotto. Renewed from heat and allowed to cool slightly. Divide mixture evenly among peppers using a small spoon to pack it down into the tip. Arrange peppers in a single layer and bake, covered with foil, for 1 hour. Steam or wilt spinach or kale in skillet or microwave and divide among serving plates. Nestle 3 to 4 peppers on top, sprinkle with demeaning two tablespoons fish sauce and peanuts, and garnish with optional Thai basil and/or cilantro. Serve immediately with chopsticks.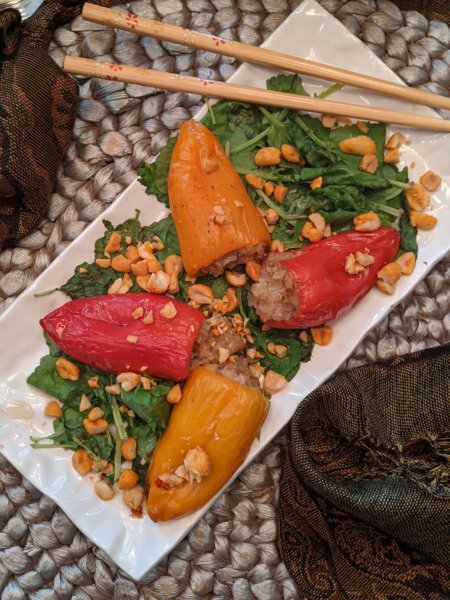 #vegan #veganrecipes #veganfoodshare #veganfoodporn #plantbased #plantbasedrecipes #plantbasedfoodshare #plantbasedfoodporn #Thaifood #stuffedpeppers #cauliflowerrisotto