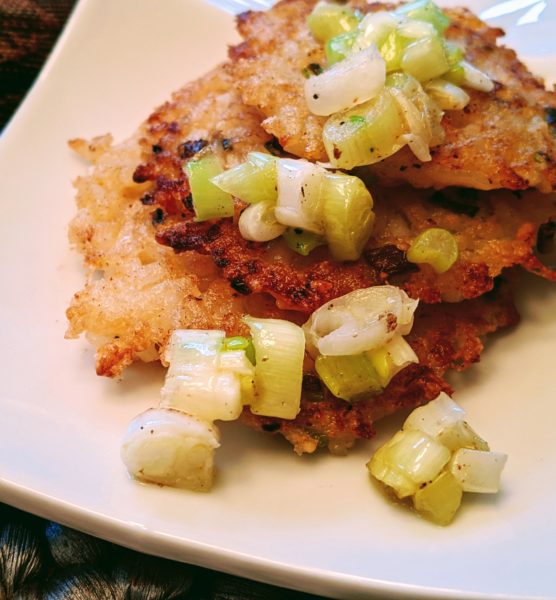 If you find yourself with leftover rice, say from Chinese takeout as we did, these make a delicious appetizer or dinner. With the larger version there is a smaller ratio of crispy crust to creamy interior, but they are still delicious.
I was craving Asian flavors, but you could spice these up anyway you like: Indian, Italian, Middle Eastern, or whatever suits your fancy. And speaking of fancy, they look spiffy enough for a party, but are so simple that you can whip them up for any occasion…or no occasion.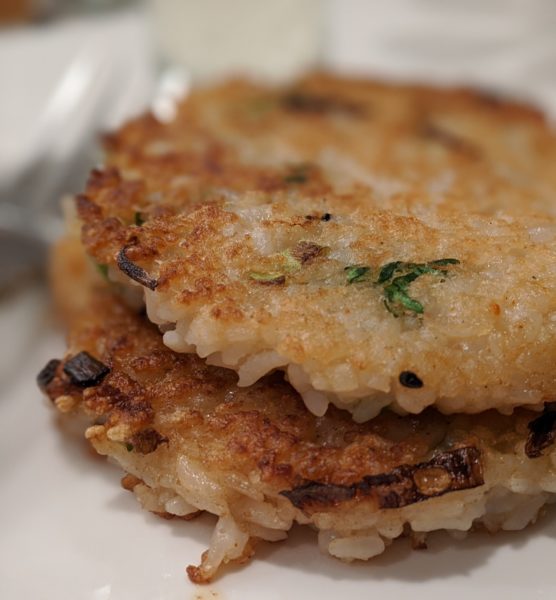 Rice Cakes
Yield 6-2″ cakes or 2-4″ cakes
1/2 cup rice
2 tablespoons minced green onion, green part only; reserve the white part, thinly sliced
2 tablespoons coconut milk
2 tablespoons cornstarch
1/4 teaspoon Japanese Seven Spice or the spice of your choice
1/4 teaspoon garlic powder
Sea salt to taste (if your spice mixture does not include salt)
2 tablespoons vegan butter ( I use accidentally vegan Country Crock as it is half the calories of vegan butter)
In a medium bowl, combine all ingredients except white part of green onion and butter. Mix well. mixture should hold together when squeezed. If not, add additional coconut milk or cornstarch, or both, as the moisture content of rice varies widely. In a large skillet over medium to medium-high, melt butter, add white part of green onion, and saute, stirring, for about a minute or until softened. Remove onions to a small cup or bowl, leaving as much butter as possible in skillet. Dollop rice mixture into skillet, whatever size you like, and press firmly with a small spatula to compact the mixture, shaping into discs. Cook for a couple of minutes or until golden brown on one side. Flip and repeat.
Serve with sauteed white parts of green onion scattered over the top or, for that matter, whatever topping you desire.
#vegan #veganrecipes #veganfoodshare #veganfoodporn #plantbased #plantbasedrecipes #plantbasedfoodshare #plantbasedfoodporn #ricecakes #veganappetizers #plantbasedappetizers