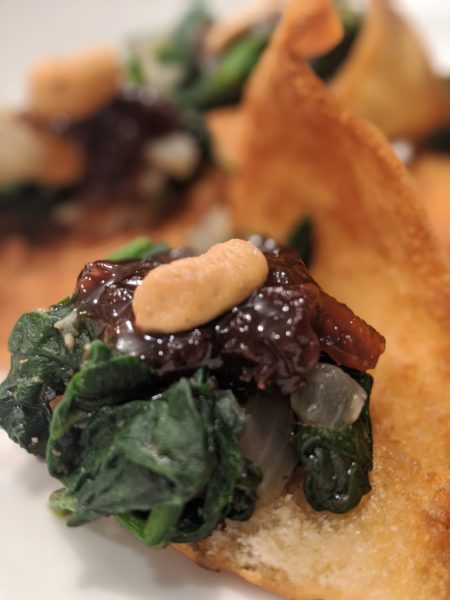 Friday nights are for healthy low-calorie but indulgent ahh-its-the-weekend noshing. Enjoy my latest TGIF treat any night of the week.
We fried our pita (30 seconds at 375 degrees) and drained it well, but you could use purchased pita chips or bake yours (10 minutes at 350).
1 small-medium yellow onion, diced
2 very large cloves garlic, minced
1/4 to 1/2 teaspoon sea salt
1/2 teaspoon minced ginger
1/4 to 1/2 teaspoon each ground cardamom, coriander, and cumin
10 ounces baby spinach leaves (cooks way down)
1/2 cup unsweetened coconut milk (the drinkable kind in a carton, not the high calorie canned kind)
16 pita triangles, baked, fried, purchased
8 teaspoons chutney (I used plum)
Cover the bottom of a large skillet with water and bring to a simmer over medium to medium-high heat. Add onion, garlic, and salt and saute until onion is soft and water is mostly evaporated. Stir in spices. Cover with spinach–spinach will quickly wilt–and saute, stirring, until spinach is still bright green, but very soft. Stir in coconut milk and cook, stirring, until flavors meld and milk is absorbed. Serve immediately dolloped on pita triangles. Top with a dab of chutney and a cashew half. Note: when we fried our pita, we found that the layers broke apart easily and that just one layer was plenty of crispy bread for each Not-cho, making these even more low calorie. But suit yourself, always.
#vegan #veganrecipes #veganfoodshare #veganfoodporn #plantbased #plantbasedrecipes #plantbasedfoodshare #plantbasedfoodporn #Indian #fusion #spinach #natchos #lowcalorieappetizer #lowcaloriedinner #saag