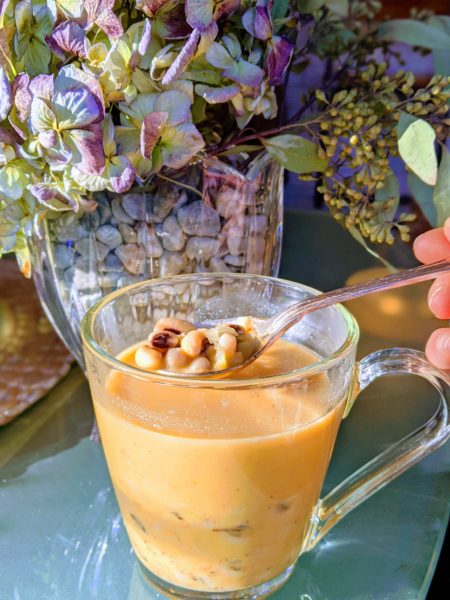 Hopefully I am not too late posting this ultra-simple and silky soup recipe to bring you some New Year's luck. At least, where I come from, enjoying black eyed peas on New Year's Day is said to ensure a year of good luck.
I considered all manner of dents, hummus, casseroles, Taco fillings, enchilada filling, and more. But it all just seemed way too heavy.
My light recipe– which is really more of a method–starts with about 2 cups of vegetable soup, homemade or store bought. Mine was homemade and had a hint of curry, cumin, and smoked paprika. But blackeyed peas play nicely with virtually any flavor.
Then I cooked 10 ounces of fresh blackeyed peas in about four cups of water with a teaspoon of vegetable base and a teaspoon of roasted garlic base. Any kind of vegan vegetable stock would be fine. You can simmer on the stove for about 20 minutes or cook in the microwave, though I found that my microwave really wasn't any faster.
I then added 4 ounces vegan cream cheese to the lead in there broth, he did again for about 10 minutes, and whisked until the creamwas melted and fully incorporated. Then I combined that mixture with the vegetable soup, heated through again, and served up the most delightfully creamy, yet light, cup of good luck.
Happy New Year!
#vegan #veganrecipes #veganfoodshare #veganfoodporn #plantbased #plantbasedrecipes #plantbasedfoodshare #plantbasedfoodporn #vegansoup #plantbasedsoup #newyears #veganblackeyedpeas #plantbasedblackeyedpeas