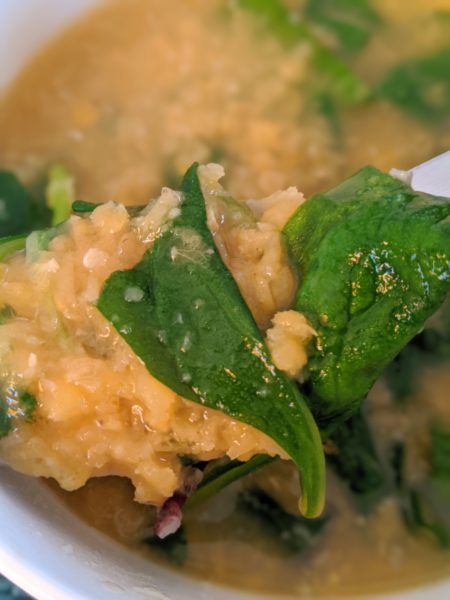 A one bowl wonder that is just what the doctor ordered…
I am home sick from school today with a cold but, by noon, I was just a tiny bit hungry and wanted something nutritious, light, and satisfying made from ingredients in my pantry.
I wasn't too hopeful, but I found about a half cup of red lentils in a bag–which, as you probably know, cook up to a beautiful golden color and creamy texture–and a can of coconut milk. Hot soup sounded perfect and like it might ease my sinus congestion (which it did!).
Once I had cooked the lentils, they were just beautiful as they were and I was happy to forgo all of those calories from the coconut milk. I cooked the lentils in the microwave and even went back to bed while they cooked, stirring into the bowl in which I cooked them a very few ingredients. And just like that, my soup was finished and so delicious.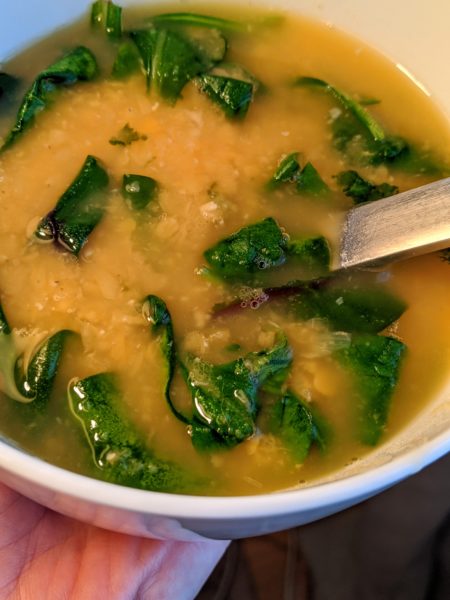 Here's my simple recipe and method:
Simplest Red Lentil Dal – Spinach Soup
Yield: 1 serving
1/2 cup dry red lentils, rinsed and sorted
1 and 1/2 cups water
1 teaspoon sea salt
2 small handfuls fresh baby spinach or other tender greens
1 teaspoon garlic puree
1 teaspoon ginger puree
1/4 to 1/2 teaspoon ground coriander
1/4 to 1/2 teaspoon curry powder
In a medium to large bowl–because the water will bubble up–cover lentils with water and add salt. Cook on maximum power for about 15 minutes or until very tender with plenty of broth. Remove from heat being careful not to burn yourself and stir in remaining ingredients. Enjoy immediately.
Note: if you are serving for company or even your family, you might want to garnish with cilantro sprigs, roasted and lightly salted chilies, and even seated and very thinly sliced chili peppers.
#vegan #veganrecipes #veganfoodshare #veganfoodporn #plantbased #plantbasedrecipes #plantbasedfoodshare #plantbasedfoodporn #soup #indiandal #lentilsoup #quickandeasysoup #lowcaloriesoup