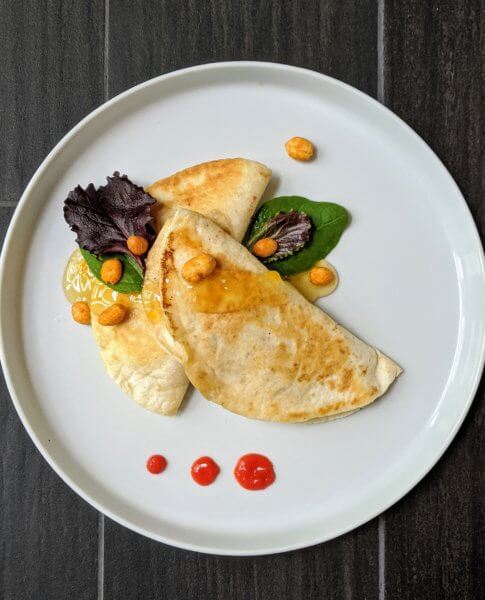 Teaching from home during this pandemic means that my school day lunches are more interesting and varied, but that I also end up with little bits of this and that left in the fridge.
With a couple of dabs if Asian tofu salad leftover and no crackers with which to eat it, but some small flour tortillas in the fridge, my concept for the Anything Quesadilla was born.
Not wanting to combine cheese with the Asian flavors, I wondered if I could seal the edges of the tortilla together by heating it for 30 seconds in the microwave. Yes! The brief heat was all it took.
I put a little of the salad on one half of the heated tortilla, folded it over, pressed the edges, and dry sauteed it in a skillet sprayed with non-stick spray for a couple of minutes on each side.
For this version, I garnished it with duck sauce, a few leaves of fresh greens, three dots of Sriracha, and lightly roasted spicy peanuts.
Fill yours with any slightly moist filling and garnish with complimentary sauce, vegetables, and, if you like, nuts. Here's an example: vegan tuna salad, lemon dressing, and a few walnuts and capers. Or go Middle Eastern with tabouli, thinned hummus as the sauce, diced cucumber, and line nuts or slivered almonds.
The combinations are endless and so satisfying.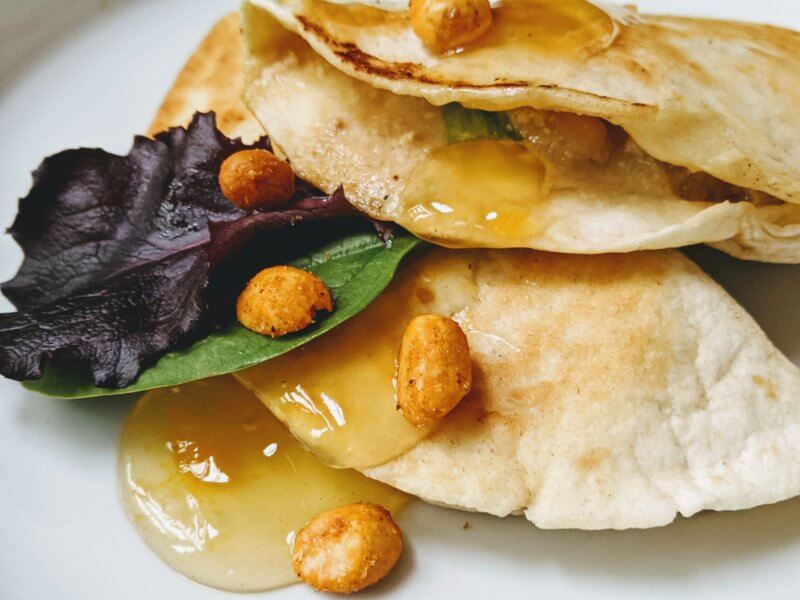 #vegan #veganrecipes #veganfoodshare #veganfoodporn #plantbased #plantbasedrecipes #plantbasedfoodshare #plantbasedfoodporn #veganquesadilla #plantbasedquesadilla #veganfusion #plantbasedfusion