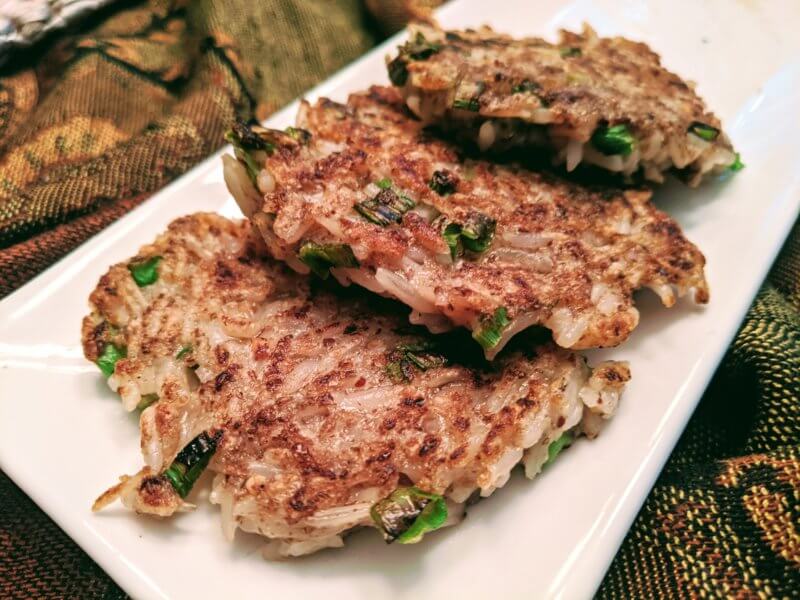 The trick with vegan or plant-based skillet-fried cakes, fritters, and even burgers, is how to get them to hold together without a lot of breading or filler.
These rice cakes, made with leftover cooked rice, hold together beautifully with just a flax egg and cornstarch.
They are ready to devour in minutes with the topping of your choice or by themselves because they are quite tasty.
1 tablespoon flaxseed meal
3 tablespoons water
1 tablespoon cornstarch
1/2 teaspoon sea salt
1/4 teaspoon onion powder
1 cup leftover cooked rice
1 green onion, green part only, thinly sliced or snipped with scissors
In a medium bowl, whisk together flaxseed meal and water. Set aside for just a few minutes until it thickens, whisking occasionally. Whisk in cornstarch, sea salt, and onion powder. Then stir in rice and green onion with a fork. Heat a skillet sprayed with non-stick spray over medium to medium high heat. Divide mixture into four even mounds, pressing into a disc about 1/4-inch thick. Cook for a couple of minutes on each side or until golden brown, adjusting heat if necessary. Serve alone or topped as desired.
#veganricecakes #plantbasedricecakes #vegan #veganrecipes #veganfoodshare #veganfoodporn #plantbased #plantbasedrecipes #plantbasedfoodshare #plantbasedfoodporn