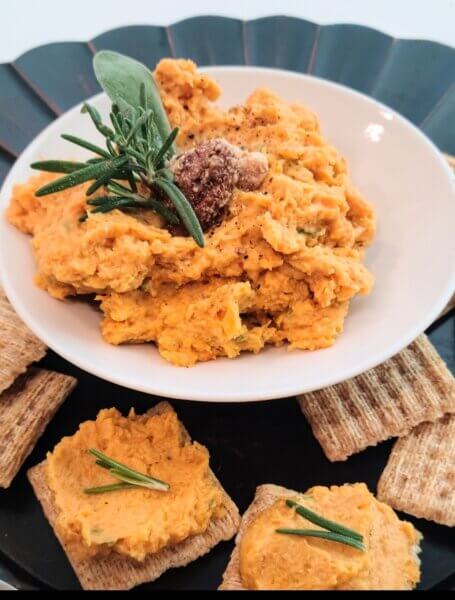 Recently, Spero Foods generously shared some of their sunflower-based products with me after I happily agreed to review their goat cheese alternative, The Goat.
I was excited to sample it–the fresh, modern packahing is appealing–but I wouldn't say it is the "greatest of all time," though It certainly has some merit.
I wanted to try it first without reading any reviews. My taste test revealed a creamy, but textured, product. However, I did not find that it tasted like the goat cheese that I recall from my pre-vegan days. Rather it tasted strongly–very strongly–of blue cheese.
Some of the reviews I later read raved about it's exact match with goat cheese. Others shared my view that it tasted like blue cheese, and still others were much less kind about the flavor, the texture, and the aroma.
I tasted it plain and enjoyed it as a blue cheese-flavored spread, but then I made a Butternut Squash Spread with it. It was a little bit too robust in its flavor for the roasted butternut squash, so it would probably better complement something equally assertive, say a piquant Buffalo sauce.
I would buy the product, but I would buy it intending to use it more like a blue cheese. And I encourage you to see what you think.
Think above that comes broken, try this:
The Goat (Plant-Based Goat Cheese)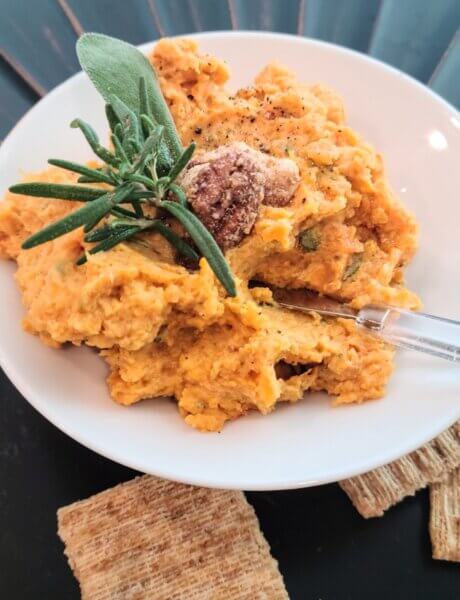 Roasted Butternut Spread
2 cups diced roasted butternut squash
1/4 cup vegan goat cheese, blue cheese, ricotta, or cream cheese
Leaves from 1-4 inch piece fresh rosemary
2 large fresh sage leaves, torn in half
1/2 teaspoon fresh thyme leaves
1/4 teaspoon garlic powder
1/4 teaspoon onion powder
Sea salt and freshly ground black pepper to taste
2 tablespoons olive oil, divided
Garnish: fresh herbs and nuts, plain or candied
Process all ingredients together, except 1 tablespoon olive oil, in bowl of food processor until smooth, scraping down sides of bowl as necessary. Transfer to serving dish, make a swirl in center, drizzle with remaining olive oil, garrnish with fresh herbs and nuts as desired, and serve with crackers, toasts, or fresh vegetables.
#sperofoods #veganappetizer #plantbasedappetizer #vegancheese #veganspread #plantbasedspread