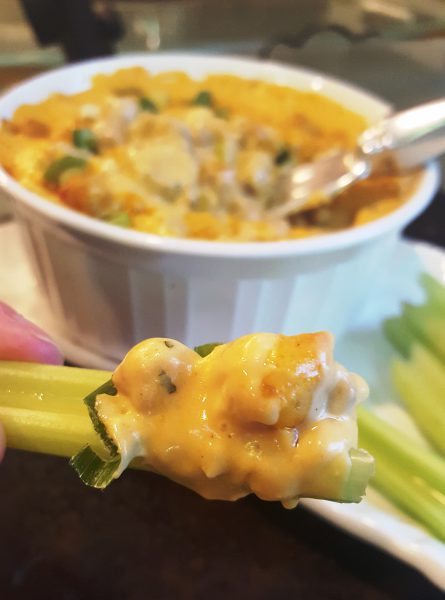 So sorry I've been away for so long…
The start of school–especially a year like this with great kids but a punishing schedule–always creates a bit of a hiatus from The Blooming Platter.  Add to that either food poisoning or a stomach virus the last two days of the first week of school, and food was of little interest to me for quite a while.
However, the first thing I wanted to eat after 2 days of being flat on my back in bed too weak to even feed the dogs–I had to call Bob home from work the first day when I couldn't rouse myself by about 9 a.m.–was a vegan Buffalo "Chicken" pizza slice from Whole Foods.  It proved to be a bit too much of a good thing and I couldn't finish it.  But, something about those hot-n-tangy Buffalo flavors still sounded good.  So, the next weekend when I made my regular Whole Foods stop after weekend yoga classes, I plopped some vegan Buffalo seitan bites atop some kale messaged with tahini dressing, and it was a revelation.
Then, yesterday, our generous administration and counseling office at school hosted a "social" during lunch–a lunch teachers can never take–and because they specifically told me they had vegan leftovers, I went down after my last class and enjoyed some veggies, fruit and crackers.  But there on the buffet table was a baked Buffalo dip and I knew I had to recreate it my way.  And soon.
So that's what I did today after researching some recipes, making some mental changes, stopping at Whole Foods, and testing it out for lunch. Wow!  It is so delicious that I was afraid I might devour half a recipe.  But it is so rich and satisfying that, honestly, just a small serving is perfect. Even Bob had to admit that it was "not bad," a glowing endorsement from his omnivorous self.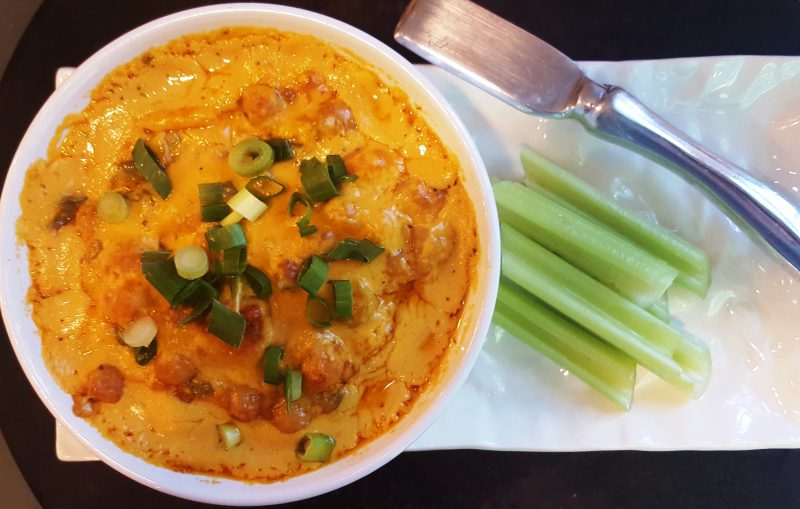 The main recipe I decided to veganize was quite  basic: cream cheese, ranch dressing, grated cheese, hot sauce, and canned chicken.  Another recipe I consulted also called for ranch dressing which I found puzzling since blue cheese dressing is the typical accompaniment to Buffalo wings.  So, I was elated when I found Daiya brand blue cheese dressing and decided to substitute it.
For my version, I also used vegan cream cheese, So Delicious shredded jack and cheddar blend, Pete's hot sauce (I didn't have Frank's on-hand), and chickpeas in place of the chicken.  However, I feel sure that the original protein must add a depth of flavor, so I used 1 vegan no-chicken bouillon cube. It does up the salt level, so if you are hyper-sensitive to salt, you might want to omit.
The rich and creamy mixture was plenty tangy without additional vinegar, but I felt it did need a hint of butter used in standard Buffalo sauce recipes, so I added 1 tablespoon of Earth Balance.
Also, I think everything savory is better with garlic and onion–an opinion Bob and I share–so I added minced garlic and, because he doesn't care for cooked onion, I used finely sliced green onion both in the dip and over the top when its lusciousness emerged from the oven the first time I prepared it, and immediately after spooning it into the crockpot the second time.
Again, I pronounce the end result perfection scooped up with celery sticks; Bob a "not bad" scooped up with Fritos; and that, friends, means that it is a winner for you and your carnivorous pals.
Vegan Cheesy Baked Buffalo Chickpea Dip
2-8 ounce cartons vegan cream cheese
3/4 cup Frank's hot sauce
1 cup vegan Blue "Cheese" or Ranch Dressing (I used Daiya brand, but you might try Just brand Ranch if you can't find Daiya Blue "Cheese")
1 cup shredded vegan cheddar, jack cheese or a combination (I used the So Delicious brand combo)
1 vegan no-chicken bouillon cube
2 large cloves garlic minced
2-15 ounce cans chickpeas, rinsed and drained
1 cup + 1/4 cup green onions, thinly sliced
Accompaniment: fresh celery sticks and/or chips
Preheat oven to 350 degrees.  Oil or spray a small baking or au gratin dish with non-stick cooking spray. (If using crockpot, don't preheat, but do sray removable dish compartment eith nobstick spray.)  Place all ingredients except chickpeas and green onions in a large saucepan over low heat.  Stir frequently until cheeses melt and the mixture is thick and creamy.  Stir in chickpeas and 1 cup of the green onion.  If baking, spoon into prepared dish and bake for 20 minutes.  Remove from oven, sprinkle with reserved green onion, and serve immediately with fresh celery sticks and/or chips.
If using crockpot, spoon mixture into dish compartment of unit, set to medium, sprinkle with reserved green onion, cover, heat until bubbly, and then reduce setting to low.