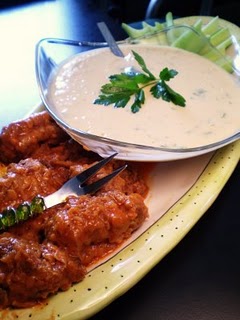 Yield: 12 wings
The result of a request from a cooking student and now pal, Anne Frerichs, this recipe will make you think you've fallen off the vegan wagon. The result of cobbling together recipes from vegan divas, Sarah Kramer and Jo Stepaniak, along with one from Americanfoods.com, this dish may well be voted MVP: Most Valuable Party Food, but it is great for dinner or a snack too. The boneless wings are quickly formed from simple homemade seitan or "wheat meat" before being simmered in a mock chicken stock, coated, pan-fried and tossed with the stir-together Buffalo sauce which claims to be the authentic recipe from the Anchor Bar in Buffalo, New York. Televised football game or not, you will score big when you serve these wings with tangy faux bleu "cheez" dressing and crunchy celery sticks. PLEASE don't be deterred by what looks like a lengthy prep process. While the seitan simmers for about an hour in the stock, you can prepare the wing sauce and the bleu "cheez" dressing, both of which just stir together, and cut the celery.
approximately 4 celery sticks, rinsed, trimmed and cut into 2-3" lengths (wrap and store in refrigerator)
Chicken Mock Stock
2 cups water
¼ cup nutritional yeast
2 tablespoons tamari
1 teaspoon onion powder
1 teaspoon dried sage
½ teaspoon dried thyme
½ teaspoon salt
¼ teaspoon celery seed
Combine all of the ingredients in a large saucepan and set aside while you make the wings.
Basic Wings (Seitan or "Wheat Meat")
1 cup instant vital wheat gluten flour
1 cup water
In a medium bowl, stir together wheat gluten and water until completely combined. Knead for about 3 minutes (many recipes say 5 minutes, but I think the extra minutes toughen the product). Shape the seitan into a short baguette (about 5 inches long). Cut in half lengthwise and then in half again crosswise. Cut or pull each quarter into 3 roughly equal pieces. Bring stock to a boil. Stretch each "wing" a little before placing carefully into stock. Reduce heat to a very slow simmer and cover pot with lid. Let simmer for 50-60 minutes, stirring every 10 minutes (or whenever you think of it), until broth has almost completely reduced. If it doesn't, no worries. (Pieces will expand, but shrink back down.) Use immediately or store in the refrigerator (for up to 6 days) or the freezer (for up to 6 months). For a chewier texture once you have simmered the seitan, follow the directions below for fried chicken before tossing with the Buffalo sauce. Alternatively, you may bake the wings at 350 degrees in a lightly oiled baking dish for 30 minutes before tossing with sauce. Serve wings slightly warm or at room temperature with celery sticks and Creamy Blue Cheez Dressing.
Source: La Dolce Vegan by Sarah Kramer
Jay-Lo's Fried Chicken
¼ cup flour
½ teaspoon paprika
½ teaspoon salt
½ teaspoon ground black pepper
½ cup unsweetened soy milk
1 recipe chicken-flavored seitan
1/8" of canola oil
In a shallow dish, stir together the dry ingredients. Set aside. Pour milk into a small bowl and set aside. Dip wings into flour, then dip in milk, and then into the flour again. In a large skillet on medium-high heat, fry the wings in about 1/4 inch of oil, turning once, until well-browned on both sides (this will take a few minutes on each side). Meanwhile, prepare Buffalo sauce. When chicken is browned, toss with sauce.
Source: La Dolce Vegan by Sarah Kramer
Almost Authentic Buffalo Wing Sauce
6 tablespoons Earth Balance (if not using a salted vegan butter, add ¼ teaspoon salt)
1 1/2 tablespoons white vinegar (may be too much tang; you decide)
1/4 teaspoon cayenne pepper (optional)
1/8 teaspoon garlic salt
1/4 teaspoon vegan Worcestershire sauce or Bragg's Amino Acids
1 teaspoon Tabasco sauce (optional)
6 tablespoons Louisiana hot sauce (preferably Frank's brand)
In a small saucepan over medium heat–or in a bowl in the microwave–melt butter. Whisk in remaining ingredients. Sauce will thicken and coat wings perfectly as it cools to room temperature or slightly above.
Note: I think the sauce is plenty fiery without the cayenne pepper and Tabasco sauce. Also, the faux blue "cheese" is very tangy, so you may prefer to omit the vinegar in the wing sauce lest the whole dish be too acidic.
Source: adapted from Americanfoods.com (claims to be the authentic sauce from Buffalo's Anchor Bar)
Creamy Blue Cheez Dressing
½ cup sesame tahini
½ cup extra virgin olive oil
1 ¼ teaspoons salt
1 teaspoon crushed garlic or garlic powder
1 teaspoon light miso
¼ teaspoon pepper (use white to prevent black flecks)
¼ cup lemon juice
¼ cup white vinegar
1 tablespoon dried parsley flakes or 3 tablespoons fresh minced parsley
In a medium bowl or food processor, beat together first 6 ingredients until creamy and smooth. Vigorously beat in lemon juice and vinegar until well combined. Stir in parsley or add a very small rinsed and drained bunch to the food processor and pulse a few times to mince and distribute. Keeps 10-14 days in an airtight container in the refrigerator. Stir well before serving.
Source: slightly adapted from The Ultimate Uncheese Cookbook by Jo Stepaniak (the only changes I made were to omit all of the water, as it made the dressing far too thin, and add more parsley).