Yield: approximately 2 1/2 cups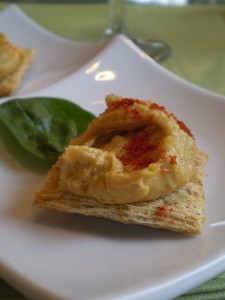 I finally figured out what was missing from many of the homemade vegan "cheese" recipes I had tried…though they were very tasty, they lacked what, for lack of a better term, I'll call that aged cheesy "funk."
One day, musing about what would give my vegan "cheese" that extra little "somethin'-somethin'," beer popped into my mind.   It seemed to me that the fermentation would evoke something of that "aged" quality.  And I was right! At least to my palate.  Plus, together, the beer or wine and miso paste impart that elusive umami.
Beer is perfect, but  if your husband (or wife, significant other, parent, sibling, or any cohabitant with an opposable thumb) drinks the last brew, white wine is quite delicious too.  (I've used Orvietto Classico. )
I love this spread on crackers–low fat Triscuits in the photo–as an after school snack with a glass of soymilk or, depending on the day, a glass of wine.  But it's also delicious dolloped on a baked potato or on my Vegan Skillet Chili, a recipe I promise to post very soon.   Simply thin it with additional soymilk or beer/wine and heat to create more of a sauce.
Ridiculously easy to make , this spread looks so homey and inviting in a little crock.  Sometimes I like to share half the batch as a casual gift.  And sometimes I like to hoard it all for myself.
2 cups lightly salted and roasted cashew halves or pieces (soaked for a few hours IF desired)
1/2 cup nutritional yeast
1/2 teaspoon garlic powder
1/2 cup soymilk
1/2 cup beer or non-alcoholic beer (or white wine)
2 tablespoons any kind of miso paste (the darker the color, the deeper the flavor)
Place all ingredients in the bowl of a food processor fitted with a metal blade and process for a few minutes or until quite smooth, scraping down the sides of the bowl as necessary.  Store in an airtight container or crock in the refrigerator.
Note:  According to Ali Tadayon in "Beware the Beer: Is Yours Vegan," found in the Vegan Mainstream e-newsletter, not all beer is vegan, as it may include albium (derived from animal blood), isinglass (derived from the swim bladders of fish), gelatin, charcoal, pepsin, lactose, and even insects.  She recommends the following vegan-approved beers: Amstel, Corona, Heineken, New Belgium Brewery, Pabst Brewing, Sierra Nevada Brewing Company, and Tecate over these non-vegan ones:  Castle Rock Brewery, Guinness, Newcastle Brown Ale, and Red Stripe.