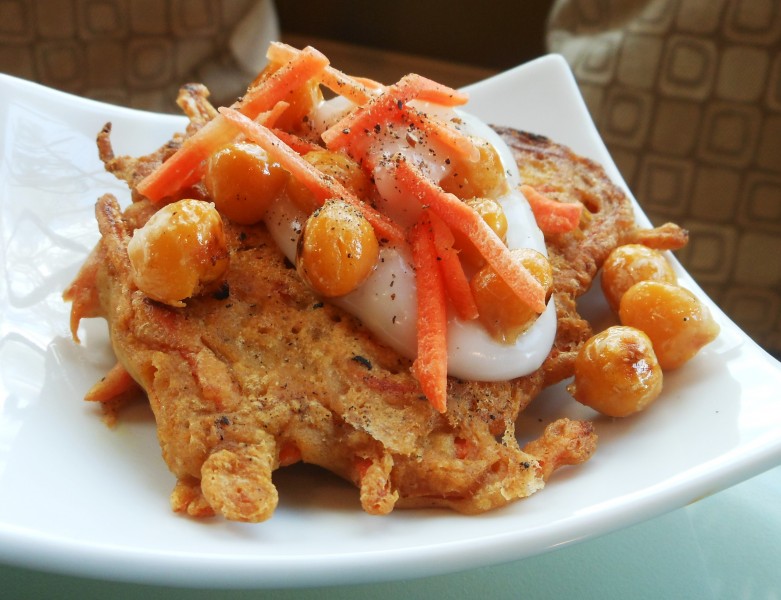 Yield: 4 appetizer servings (easily doubles)
Not too long ago, I created and posted a recipe for Kale Kakes.  I loved them so much that I started searching about in my refrigerator and pantry for some other healthy ingredients with which I could concoct a different version.
I discovered some pre-shredded carrots in the fridge and was going to make savory "carrot cakes."  But then a can of chickpeas caught my eye and that combination sounded delicious not to mention providing a little more protein.  But if two "Cs" are good then three are better, hence the addition of a hint of curry powder.  However, if you aren't a fan, just leave it out.
They needed a contrasting topping and with this nod in the direction of India, one with a yogurt base seemed the most fitting, especially one with a hint of coconut like So Delicious Cultured Coconut Milk.  A little lemon and ginger added simple layers of flavors for the perfect creamy accompaniment.
I was almost finished but when I realized my recipe wouldn't require the whole can of chickpeas–and not liking to accumulate too many odds and ends in the fridge–it struck me that I could roast them and use them as a little garnish.  Voila!  A simple little app that could almost be a perfect mini-meal.
In fact, I thought it was so good, I entered it in the appetizer category of the So Delicious 3 Course Recipe Contest!  Do you think I have a winner?
Vegan Savory Curried Carrot and Chickpea Cakes:
2 tablespoons olive oil
1-15.5 ounce can chickpeas, rinsed and drained
1/2 cup unbleached all purpose flour (I use white whole wheat)
1/2 teaspoon curry powder
1/4 teaspoon ground cumin
1/4 teaspoon garlic powder
1/2 teaspoon baking powder
1/4 teaspoon baking soda
1/4 teaspoon sea salt
1/8 teaspoon freshly ground black pepper
1/4 cup + 1 to 2 tablespoons So Delicious Coconut Milk Creamer ("origina"l flavor)
1 cup very lightly packed grated raw carrot
Garnish: skillet roasted chick peas and a few shreds of fresh raw carrot
Heat 1 tablespoon olive oil in a large cast iron skillet over medium-high.  Set aside 1/2 cup chickpeas and add remaining ones to the pan.  Roast for 10 minutes or until lightly golden brown and slightly crunchy, stirring occasionally.  Remove to a small cup or bowl.  Meanwhile, in a medium bowl, whisk together flour, spices, baking powder and soda, and salt and pepper.  Make a well in the center and pour in 1/4 cup creamer.  Whisk to make a smooth batter.  Stir in the reserved 1/2 cup chickpeas and carrots, adding remaining 1 to 2 tablespoons creamer to loosen batter slightly.  It should still be fairly thick and spoonable, almost like a fritter batter.  Heat remaining tablespoon of olive oil in the skillet in which you roasted the chickpeas.  Divide the batter into 4 equal mounds and cook for a couple of minutes or until golden on each side.  Serve topped with a tablespoon of the Lemon-Ginger yogurt, a few of the roasted chick peas and a few carrot shreds.
Lemon-Ginger Yogurt:
1/4 cup So Delicious Cultured Coconut Milk
1/4 teaspoon fresh grated ginger
1/4 teaspoon lemon zest
Sea salt to taste
Freshly ground black pepper to taste
Whisk together all ingredients in a small cup or bowl.