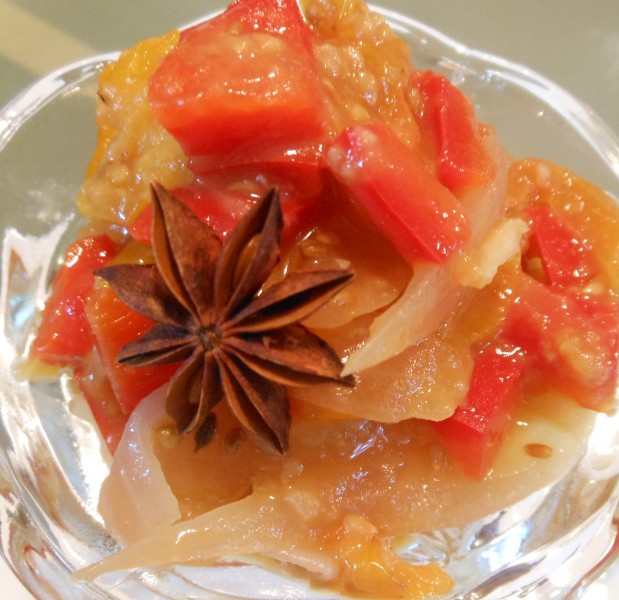 Yield: approximately 1 1/2 cups
This savory jam shimmers like jewels. Enjoy it alone or with vegan cheese spread or cream cheese on toasted bread as a simple but striking crostini, inside a wrap for a burst of flavor, or dabbed atop all manner of cooked vegetables or proteins.  It is most beautiful, though, served in a glass dish where it can really sparkle.
1 tablespoons olive oil
1 medium yellow onion, slivered
1/2 of a large red bell pepper, stemmed, seeded, and diced
1/4 teaspoon sea salt
1/8 teaspoon freshly ground black pepper
1 large clove garlic, minced
1 pint golden grape or pear tomatoes
1 teaspoon turbinado sugar
1 tablespoon balsamic vinegar
1/2 teaspoon anise seed
1 inch piece of fresh ginger, peeled and grated
Heat oil in a large cast-iron skillet over medium-high.  Add onion, bell pepper, salt and pepper, and saute, stirring, for approximately 3 minutes or until softened.  Add garlic and saute for another 30 seconds.  Add tomatoes, and cook, stirring occasionally, until they begin to soften and break down, about 5 minutes.  Add remaining ingredients and cook, stirring frequently, another 5 or so minutes until tomatoes break down further, and most of moisture has cooked off, creating a thick, pulpy, very textured, and beautifully colored jam.  Check for seasoning and adjust if necessary.  Reduce heat at any point if cooking too fast.