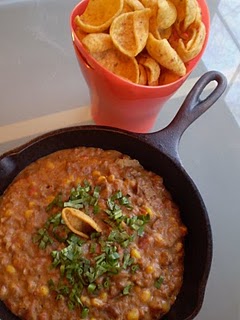 Yield: approximately 4 ½ cups
My "Veggie Table" column in today's "Flavor" section of the Virginian-Pilot featured Super Bowl snacks that, as the headline read, were "Super Dips without a Super-Size Calorie Count."
For a lot of folks, the Super Bowl, or "Supper Bowl," is a New Year's Resolution buster if you resolved to eat more healthily or lose a few "LBs" in 2010.
But, no worries, you can have your favorite game night dips and eat them too. I've cleaned up two all-American favorites: cold spinach dip and hot queso con carne dip. Both are so flavorful and filling—thanks to loads of lean animal-free protein—that you can call them dinner. Plus they are packed with nutrition and are calorie-conscious to boot. In fact, the spinach dip is fat-free.
In this post, I feature my queso dip, the base of which comes from The Ultimate Uncheese Cookbook by Jo Stepaniak. I started with her "Warm Cheez Wiz Sauce" recipe and kicked it up. Essentially, her sauce is like a béchamel only with the addition of nutritional yeast (not an active yeast) which imparts a nutty and "cheesy" flavor, miso and a few other ingredients to create a nice flavor and texture. It doesn't exactly duplicate melted processed cheese, but you might think it's even better. It's certainly better for you. To this base, I add sautéed onion, hamburger style soy crumbles, corn, Ro-tel tomatoes with green chilies, a couple of southwestern spices and a few squirts of fresh lime juice. I serve the addicting concoction right in the skillet I make it in for a down-home no-fuss presentation.
For a marriage made in football heaven, serve this dip with my Vegan Fat-Free Spinach-Bean Dip.
Vegan Queso con Carne Dip
1 tablespoon olive oil
½ of a small to medium yellow onion, finely diced
12 ounces Meal Starters Grillers Recipe Crumbles (hamburger style soy crumbles) or the equivalent of another brand
1 cup fresh or frozen corn kernels
½ cup flour (any kind, but I used whole wheat)
½ cup nutritional yeast flakes
½ teaspoon chili powder
½ teaspoon onion powder
½ teaspoon hot or sweet paprika
¼ teaspoon ground coriander
¼ teaspoon garlic powder
¼ teaspoon dry mustard
2 cups water or plain or unsweetened soy milk (I used 1 cup of each)
¼ cup olive oil
1 teaspoon light or chickpea miso
1-10 ounce can Ro-tel diced tomatoes and green chilies (I used "mild")
Juice of ½-1 lime
Coarse sea or kosher salt to taste
Optional garnish: chopped fresh cilantro
In a large cast iron skillet over medium-high, heat the first tablespoon of olive oil to shimmering. Add onion and sauté, stirring frequently, until softened. Add soy crumbles and cook until warm through. Then add corn and do the same. Turn off heat and set mixture aside. Make "cheese" sauce: In a medium saucepan, combine flour, nutritional yeast, and next 6 spices. Gradually whisk in the water and/or milk, olive oil and miso. Cook over medium heat, stirring almost constantly with a whisk until bubbly, thick and smooth. Return soy crumble mixture to medium heat and pour "cheez" sauce over. Stir to combine. Add tomatoes and lime juice and continue stirring and heating until entire mixture is bubbly and flavors are combined. Check for salt and add if needed. Garnish with cilantro if desired and serve hot with your favorite dippers.
Source for plain "Cheez Wiz" dip base: The Ultimate Uncheese Cookbook by Jo Stepaniak