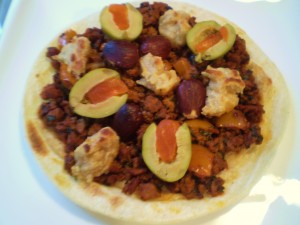 Yield: 4 pizzas
A couple of weekends ago, Hurricane Irene battered our coast, fortunately with much less ferocity than was anticipated.
When a major storm like Irene threatens, everyone's minds turn to food and drink.  Water for some, wine for us–ha!  Seriously, we joined our neighbors who cleared the grocery store shelves of bottled water–also recycling bottles and filling them with tap water–but we had plenty of wine on hand too.  For this dish, I recommend something like an Albarino.
Around lunch time, we still had power, and I got the inspiration for this quickie pizza which I figured would just require 3-5 minutes under the broiler.  Surely the power would stay on that long.  And it did; in fact, it never went out.  We were so lucky!  However, the light quality on that stormy day wasn't optimal for photography, so I apologize for this photo.
At any rate,  when you need a quick fix, regardless of the reason, this one is a keeper.
4-6 inch corn tortillas
1 cup vegan chorizo filling (This delicious filling comes from a new crostini recipe of which I had leftovers; just click the link.  Note, you only need the chorizo, not the white bean, filling.)
8 green olives stuffed with pimentos, sliced in half lenghwise (if you want more, use more!)
approximately 1/2 cup  vegan Creamy Macadamia "Cheese" Spread (this recipe was published on One Green Planet; again, just click the link.)
16 Marconi almonds (these are especially good, but any roasted and lightly salted almond will work)
Preheat broiler to high.  Place the tortillas on a baking sheet; I like to line my baking sheet with Silpat.  Spread each tortilla with about 1/4 cup of the chorizo mixture.  Top each with a pinwheel of 4 olive halves(or more if you choose), cut side up, dollop with approximately 2 tablespoons of cheese, and dot with 4 or so almonds.  Broil on top oven rack for 3 to 5 minutes or until heated through with toasty edges.  Serve immediately with a knife and fork.