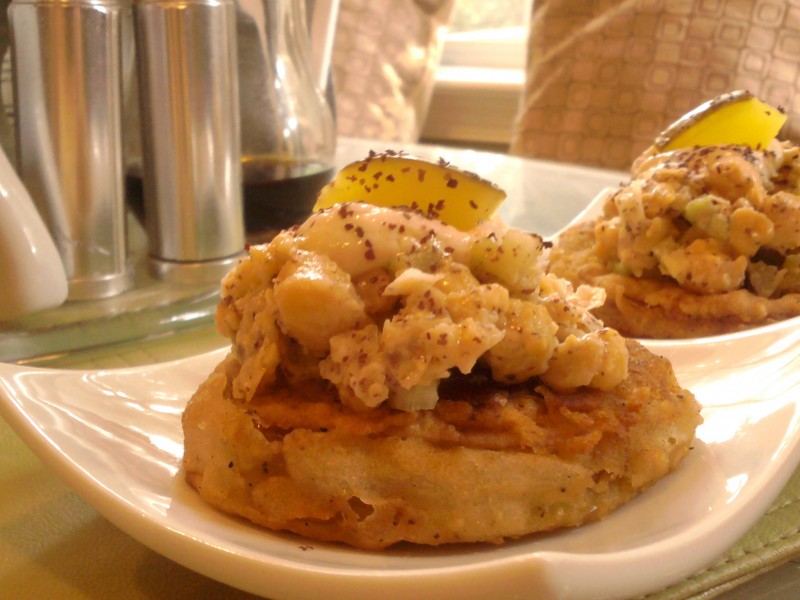 [Photo caveat: I apologize for the quality of this photo.  My trusty camera finally went on the fritz.  And, while I plan to replace it soon, I want to upgrade, but don't want to spend the money just yet.  So, this photo was taken with my phone, which is a Droid rather than an iPhone, and I don't believe the quality is as good as the latter.  However, before the summer is out, I plan to have a new camera!]
Okay, so it's not exactly standard July 4 fare, but…cold and creamy, tuna fish salad (vegan of course) sounded so good to me on a recent hot and humid day that I decided to create a batch, holiday appropriate or not.  (BTW, does it amuse you like it does me that the weather reporters act like 90+ and a hundred degree weather in July is "news"?)
I had never tried a vegan version.  I do make a Vegan Clam Chowder that receives rave reviews, so I felt sure I could capture that briny taste…and I did (!) courtesy of some Dulce granules available in health food stores and, possibly upmarket grocery stores.  I buy it at our local Organic Depot.
But my mother always made tuna salad with chopped boiled egg and I wanted to try to capture that flavor as well.  My Vegan Egg Salad is tops in many folks' (recipe) books so, I decided to add a little of the secret eggy ingredient: Indian black salt.  It has an aromatic sulfury taste that mimics that of cooked eggs perfectly.  You can buy it most affordably at Indian markets, but you can also order it online.
But what about the protein?  The only one I had in the house after a whole week away at TICA (what a beautiful honor and experience that was!) seemed oddly appropriate: chick peas, lightly mashed.
The rest was easy:  a little mayo, finely chopped celery, pickle relish and, for good measure, celery salt (though celery seed would substitute nicely).  Enjoy this salad as you would any tuna salad: on crackers; in a sandwich with toasted bread and some curly lettuce; stuffed inside a firm, ripe tomato as we do "down South;" as a lighter canape on cucumber slices; or as the ultimate indulgence: on fried green tomato slices as in the photo!  I garnished them with dab more mayo, a sliver of dill pickle (because I didn't have sweet), and a tiny pinch of both Dulce granules and Indian black salt.
I simply couldn't resist the tomatoes at the farmer's market.  To fry them, just slice them about 1/4-1/3 of an inch thick, dredge them first in a little flour seasoned with salt and pepper, then in unsweetened soymilk seasoned with the same, and then back into the flour before sauteing a couple of minutes on each side in canola oil over medium-high heat.   Drain on paper towels.
2-15 ounce cans chickpeas, rinsed and drained
1/2 cup finely diced celery
4-5 tablespoons mayo (I like my own homemade mayo or Vegenaise the best, but can rarely find the latter, so Nayonaise is fine; it just has a stronger taste.  If you use milder Vegenaise, you may need slightly less Dulce granules.)
2 tablespoons sweet pickle relish (use dill pickle relish if you prefer)
1 tablespoon Dulce granules (see note above next to "mayo."  Also, feel free to substitute Kelp granules, but you may need to adjust the amount.)
1/2 teaspoon Indian black salt or to taste
1/2 teaspoon celery salt or celery seed or to taste
In a medium bowl, coarsely mash the chick peas with a fork or a potato masher and sprinkle celery over the top.  In a small bowl, whisk together mayo and remaining ingredients.  Pour over pea and celery mixture and toss well to fully incorporate.  Check for seasoning and adjust if necessary.  Refrigerate any leftovers in an airtight container.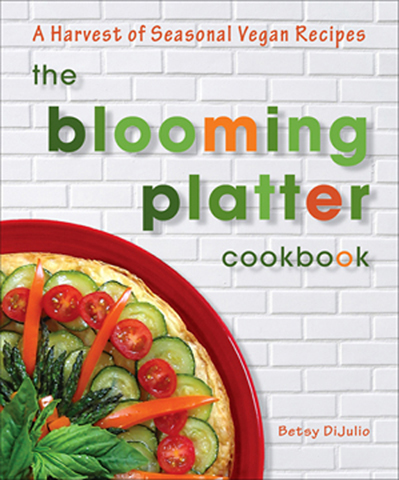 Though published a year ago, I hope my cookbook The Blooming Platter: A Harvest of Seasonal Vegan Recipes will always be relevant with its emphasis on tasty, nutritious, beautiful, and seasonal vegan fare.  If you need a little gift for yourself or a friend/family member, you can obtain it simply by following the link. And thanks in advance !