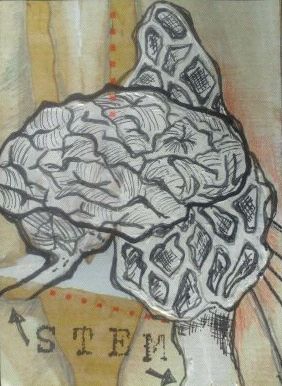 This tiny mixed-media painting, "Stem," along with two others–"Foot" and "Respiration"–was juried into the "Small Works" exhibition at the Charles H. Taylor Art Center in Hampton, VA, which opened yesterday.  All three pieces sold on opening day AND "Stem" was presented with an Award of Merit!
I have to confess, though, that these piece are less about food and veganism than about Natural Intelligence.  The series of 12 "artist trading card" size mixed-media pieces was my response to an assignment by the inimitable and irrepressible, Joanne Winkler, the professor of a graduate course that I was fortunate to take this past summer at Goucher College in Towson, MD.  On the long drive up, I heard a fascinating interview on NPR with Paul Stamets, a well-known mycologist.  So, when were were assigned a "Concentration" of twelve 2.5 x 3.5-inch pieces all related to one theme by the end of that week, I knew instantly what mine would be.
What great food for thought!