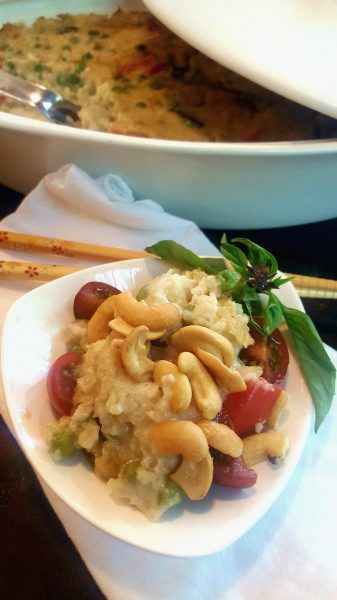 Yield: 6 Servings
Calories: app 217/serving without cashew garnish  (app. 1,300 for entire recipe)
I love rice as much as the next gal.  BUT, it contains far more calories and starch than I can justify in my 1,500-1,800 calorie daily diet.  Thank goodness that someone far smarter than me started the "riced" cauliflower movement.  I love all of the "riced" vegetables and even made a previous version of this dish with a combination of them, but I wanted the lighter color and more pure flavor of the cauliflower by itself.  I would have loved for the dish to be even more white in color, but cauliflower turns slightly yellowish when cooked.  But it is still beautiful, nutritious, and delicious.
I think I got it just right and hope you agree.
10 ounces cauliflower florets, steamed until tender (I steam it in the microwave for about 4 minutes on high)
1 can coconut milk
2 tablespoons cornstarch
1/4 cup vegan fish sauce (sold as "vegetarian" in Asian Markets or you can make your own)
1 tablespoon coconut oil, divided (you can substitute any vegetable oil, BUT this dish made with coconut oil is indescribably more flavorful, as I tried it both ways)
1 pound riced cauliflower (I'm always in a rush, so I purchase it, but you can make your own by mincing cauliflower in the food processor until it reaches the texture of rice)
1/4 cup red bell pepper, cut into thin strips and then 1-inch pieces
1/2 cup sliced onion
1 cup sliced mushrooms
1 cup fresh peas or frozen peas thawed
1 large clove garlic, minced
1 teaspoon soy sauce
Garnish: roasted and lightly salted cashew halves and pieces; sprigs of Thai basil, mint, and/or cilantro
Preheat oven to 350 degrees.  Oil a shallow casserole dish, about 9 x 13″, with 1 teaspoon coconut oil.  In a food processor, puree cooked cauliflower.  Add coconut milk, cornstarch, and fish sauce and puree again until smooth.  In a large skillet, heat approximately 1 teaspoon coconut oil over medium heat. Add riced cauliflower and gently saute, stirring frequently, until tender.  Transfer to a large bowl.  Return skillet to heat and melt remaining teaspoon of coconut oil.  Add bell pepper and onion and saute, stirring, until they lose some of their crispness.  Add mushrooms and cook until moisture is released and evaporated.  Add peas, garlic, and soy sauce and saute, stirring, just until peas are heated through.  Add veggie mixture to the bowl of riced cauliflower and pour the pureed cauliflower-coconut mixture over the top.  Stir to combine thoroughly and transfer to prepared casserole dish.  Bake for 45 minutes or until top is firm.  Serve topped with a few cashews and sprigs of Thai basil, mint, or cilantro.