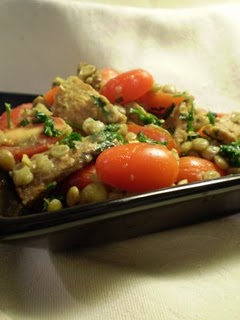 Yield: 8 servings
This "BLT" is one of my favorite salads, as I love its sweet, smoky pungency and all of the contrasting textures and colors. Plus, it's a meal in and of itself.
1 cup lentils, rinsed (black belugas are beautiful, but use what you have)
4 cups hot water
1 tablespoon olive oil
6 ounces smokey tempeh strips (known as "Fakin' Bacon")
salt and pepper to taste
1 tablespoon olive oil
1 tablespoon lemon juice
2 teaspoons balsamic vinegar
1 teaspoon maple syrup
1 teaspoon brown sugar or maple syrup
1 teaspoon mustard
2 cups halved grape tomatoes (cut lengthwise)
1/2 cup minced fresh or fresh-frozen parsley
zest of 1/2 lemon
Place lentils and water into a large pot. Bring to a boil over medium-high heat and reduce to a simmer. Cook just until tender, about 15 minutes, and drain well. (Avoid ove- cooking or they will turn to "mush." If that happens, make soup!)
Meanwhile, heat one tablespoon of olive oil in a large skillet over medium-high heat. Place tempeh strips in a single layer in skillet and cook for a couple of minutes, gently flip and cook a couple minutes longer, just until golden. Remove strips to a cutting board and slice into 1 1/2″ pieces.
While lentils and tempeh cook, make dressing. In a small cup or bowl, whisk together olive oil and next five ingredients.
Place drained lentils, tempeh and tomatoes into a large non-reactive bowl (glass or ceramic). Season wish salt and pepper to taste. Pour dressing over the top. Sprinkle with parsley and lemon zest and gently toss all together. Serve at room temperature.