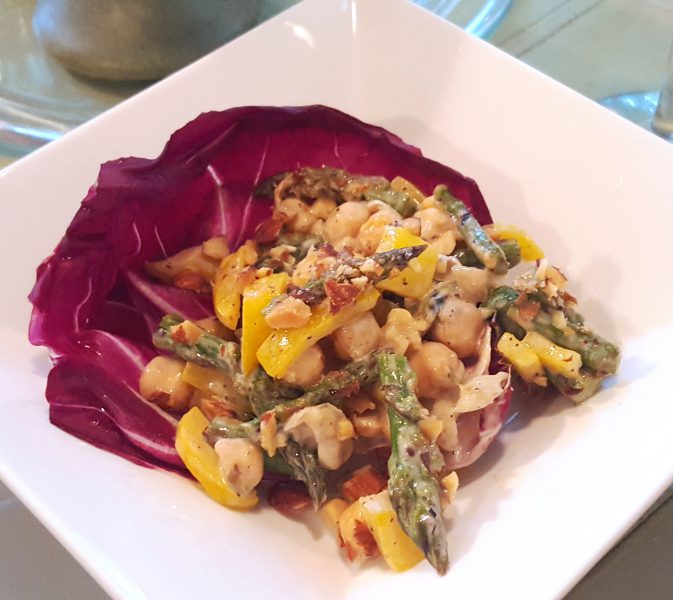 Yield: 4 to 6 servings
I am constantly seduced by produce and, once I return home, scramble to make sure it doesn't meet a soggy end in the bottom of the hydrator drawer.
Most recently, it was big, bulbous, juicy bell peppers–a red, orange, and a yellow–and asparagus.  The can of cannelini beans I thought I had in the pantry turned out to be garbanzo peans (chickpeas), but that was just fine as a protein.  Being a fan of creamy beans combined with something juicy and crunchy, like cucumbers or bell peppers, I knew I would add one of the bell peppers.  But I wanted an earthy flavor to contrast with the neutral-flavored beans and the almost sweet snap of the bell pepper.  Grilled asparagus!
Then all my salad needed was a binder.  I happen to love mayonnaise, especially the low-fat variety of Vegenaise.  This creamy white base was perfect for me, but if you prefer an oil and vinegar-based dressing, by all means; you just won't get the same bind unless you emulsify it really well in a food processor or blender.
To boost the fresh tasting flavors, I added a bit of basil chiffonade leftover from a Thai soup the night before.  And for a burst of brightness, the juice of half a lemon, though you could use the zest if you only wanted the lemony flavor without the astringency.  Finally, because I had chickpeas and not cannelini beans, I added a little hit of sumac, though if you don't have it and can't find it at an international or Middle Eastern market, it is not a deal breaker.  But it imparts a little more earthy lemon flavor and a hinit of red color.
To add a note of pleasing bitterness and to contain the salad without need of bread or a cracker, raddichio leaves proved to be the perfect little cups.  Plus, for both reasons of nutrition and aesthetics, I like to enjoy as many colors of vegetables as I can all at once, so the deep red-violet brought its beauty and healthful benefits to the party.  The perfect party hat?  A few chopped smoked almonds.
1 bunch slender asparagus, trimmed, grilled, and cut into 1-inch pieces (I trim about 1/3 of the bottom of the stalk, and grill in an indoor grill pan lightly sprayed with nonstick spray for about 8 to 10 minutes, turning every every few minutes, as I like it quite caramelized.)
I 15.5 ounce can chickpeas (garbanzo beans), rinsed and drained
1 orange bell pepper, diced
1/4 to 1/3 cup vegan mayonnaise
Juice of 1/2 large lemon
1/2 teaspoon sumac
1/4 teaspoon garlic powder
Sea salt and freshly ground black pepper to taste
About 2 tablespoons basil chiffonade (stack leaves, roll rightly, and cutinto very thin slices)
4 to 6 Raddichio leaves
Garnish:: about 4 to 6 tablespoons coarsely chopped smoked almonds
Combine all beans and vegetables in a medium bowl.   Make a well in the center, add remaining ingredients, except raddichio and smoked almonds, whisk together and then begin to incorporate into beans and vegetables until all are coated evenly.  Dividie and serve in raddichio leaves garnished with about 1 tablespoon of chopped smoked almonds.