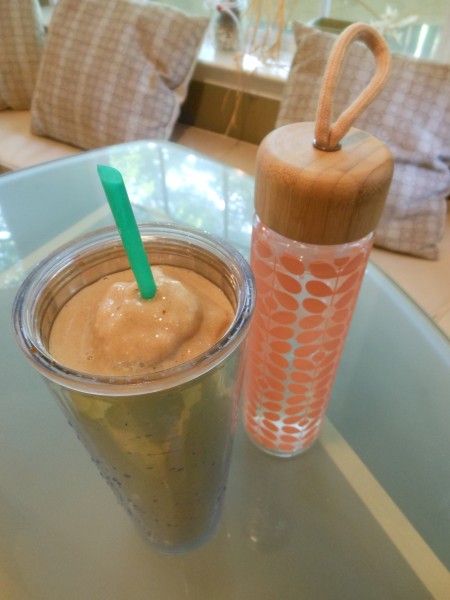 Yield: 1 serving
I'm ready to head out for yoga.  In tow are my Vegan Espresso-Cocoa Dreamsicle Smoothie and ice water in my new Orla Kiely water bottle.  The latter was a birthday gift from my dear friend and sweet colleague in our school's art department.  (She also gave me a much-needed traction towel to match!)
In high school, I was a "Carnation Instant Breakfast" gal, as I never liked to eat in the morning.  Still don't.  And I detest any kind of processed or canned "protein" beverage.  So, I opt for some kind of frappucino or smoothie type drink. Since it feels almost like summer, I have been enjoying my Vegan Dreamsicle Smoothies all week for breakfast.
Today, however, on an early morning dog walk, I got an inspiration.  A favorite cake that I used to make–yet to be veganized–combines chocolate, espresso, and orange–and I thought, "Hmm, I
wonder if I could add a teaspoon each of cocoa powder and espresso powder to my Dreamsicle Smoothie for a delicious taste twist and a tiny hit of caffeine without turning the color into something unappealing?"
The answer is, "You betcha!…so bottom's up!
1 cup ice cubes
1/4 cup frozen orange juice concentrate (go for the most natural/organic brand your can find)
1 cup unsweetened soymilk (plain or vanilla would also be nice and might omit the need for agave nectar)
1 teaspoon unsweetened cocoa powder
1 teaspoon espresso powder (or instant coffee)
1 teaspooon agave nectar
Place all ingredients in a Nutribullet (my favorite), blender, "Ninja," etc. and blend until very smooth.