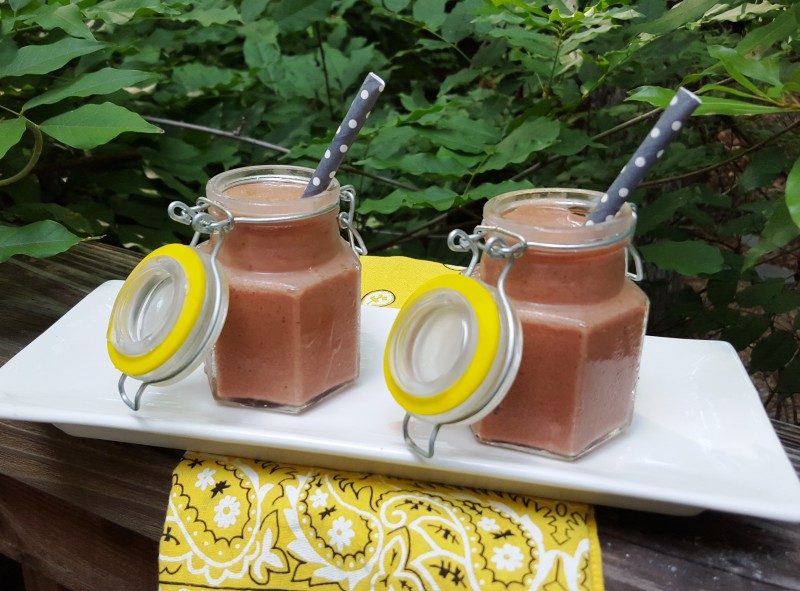 Yield: 4 snack size servings
When the temperatures rise, cool off with these sweet and refreshing shots of some of my favorite tropical flavors: banana, chococlate, coffee, and cherry.  And for adults only: a hint of Creme de Cacao.
This is my sixth and final entry in the fun "Savory, Sweet, Sippable"  Go Dairy Free and So Delicious Dairy Free  Snackable Recipe Contest to celebrate the release of the FREE Snackable eBook.  Each contestant was allowed to enter two recipes in each category, so I had fun working my way through from Savory to Sippable over the last few days.
My repertoire is a little light on beverages, so this was a fun excuse to "beef"–not!–it up.  Plus, it made for a nice little afternoon pick-me-up!
These Spiked Banana Mocha-Cherry Sippers would taste delicious drunk from a boot (!), but I love them served in little *jars (or shot glasses) on a long rectangular white ceramic plate with a summery napkin and cute paper straws (find these in the "$1" bin section of Target).
Cheers!
Vegan Spiked Banana Mocha-Cherry Sippers
1 small banana, peeled, quartered and frozen
8 ice cubes
12 maraschino cherries
1 teaspoon instant espresso powder or decaffeinated coffee
2/3 cup So Delicious Chcocolate Coconut Milk
1 tablesoon Creme de Cacao (optional but delicious)
1/4 teaspoon vanilla extract
Place all ingredients in a blender container (I use the Nutri-Bullet) and blend until smooth.  Divide among 4 small glasses or* jars and serve with cute paper straws.  (*Note: many decorative glass jars like the ones pictured are NOT safe for food consumption, so read labels carefully.)