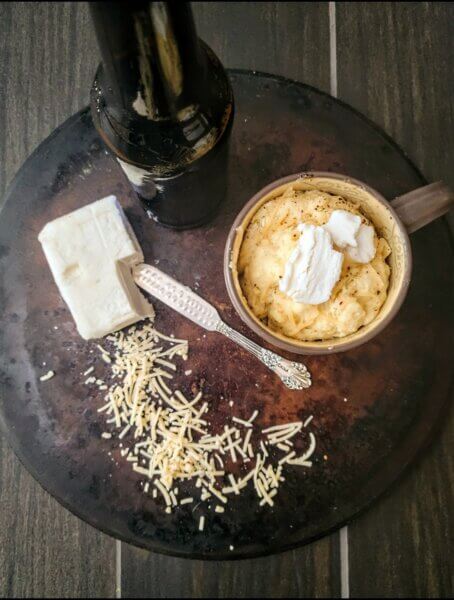 Beer Bread in a Microwave Mug–with garlic and parmesan (vegan & plant-based)
Yield: 1 serving per mug
I created this recipe while snowed in period it wasn't so much that I was afraid to drive on the snow, though there was that, there was that, but I just didn't want to splash mud and salt all over my car. I made this cute, moist, and flavorful bread with what I had on hand.  And will be making it throughout the winter… and warmer months as well.
1 tablespoon vegan butter, divided (I use Myokos)
1/2 cup flour
Pinch sea salt
Pinch garlic powder
Optional: pinch dried parsley
1 1/2 teaspoons baking powder
1/4 cup beer (I use Bud Light; identify vegan beers on Barnivore)
1 tablespoon + 1 teaspoon shredded vegan Parmesan (I like Follow Your Heart)
Optional: scant pinch freshly ground black pepper
In a microwave safe mug, melt 2 teaspoons vegan butter. Remove from microwave and swirl around sides of cup. In a small bowl or cup, stir together all dry ingredients with a fork. Make a well in center and pour in beer. Stir with fork until completely combined. Stir in 1 tablespoon parmesan and melted butter. Spoon mixture into buttered mug and top with remaining teaspoon shredded parm and optional black pepper. Microwave for about 2 1/2 minutes at full power, checking after 2. If mixture still looks a little moist, continue for remaining 30 seconds. You may need to experiment with your microwave. Top with remaining teaspoon butter and serve immediately.
#vegan #veganrecipes #veganfoodshare #veganfoodporn #plantbased #plantbasedrecipes #plantbasedfoodshare #plantbasedfoodporn #vegansofinstagram #vegansoffacebook #vegansofvirginia #thebloomingplatter #breadinamug #beerbread #plantbasedbread #veganbread