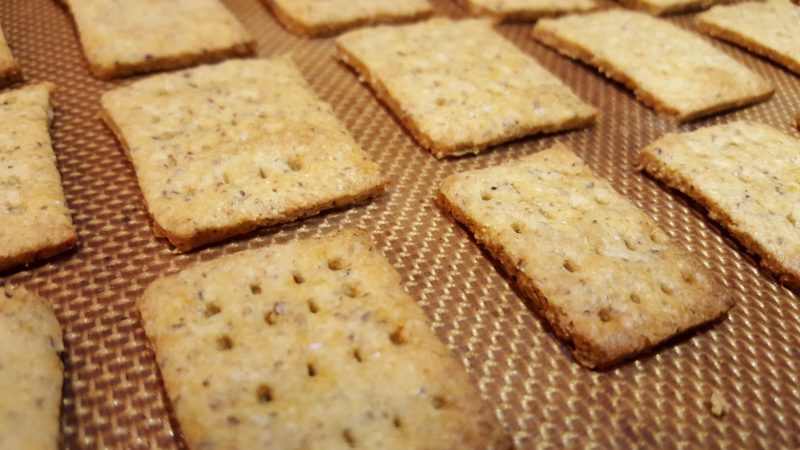 Yield: about 4 servings, but it depends on how large you cut the crackers and I like irregular shapes and sizes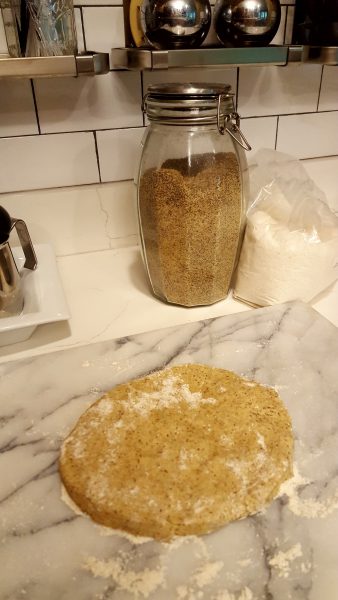 If you are not a vegan baker, keep reading…this is the perfect "gateway" recipe to have you fall in love with pastry.  This dough handles beautifully–promise!  And the resulting crackers are worth a tiny bit of effort.
The inspiration for these crackers starts in a church and is, perhaps, a little unseemly.   No, they did not begin as the body of Christ; rather as ingredients eschewed by those who frequent the church's food pantry.  Seems that the healthier, higher-end foods–chia seeds, organic cocoa powder, kale chips, etc.–are not what these folks in need seek.
So, my friend who attends the church that sponsors the food pantry will occasionally bring me those items that aren't moving off the shelves.  You can't imagine how large my canister of flax and chia seed meal has grown.  Needing a recipe to use up some of it and being the creatively resteless soul that I am, I decided to whip up some crackers.  Bread would have also worked, but I am far more likely to serve crackers than bread.  I love the crunch.
I did what I usually do: perused recipes endlessly online and then jettisoned all recipes and went for it, having learned some lessons along the way for which I am grateful.  I couldn't be more pleased with the end results: how quickly this dough came together, how easilyit handled, and how tasty and perfectly textured the crackers are.  Speaking of texture, these are the ideal tender-crisp combination.  I tried both "docking," or pricking. the surface and not, and found that the docked crackers were a bit more crispy, which I preferred.
Easy, quick, an inexpensive, these crackers would make a lovely gift from the kitchen.  Each Christmas, I gift all of the editors for whom I write with a little treat, and I think I know what next year's will be.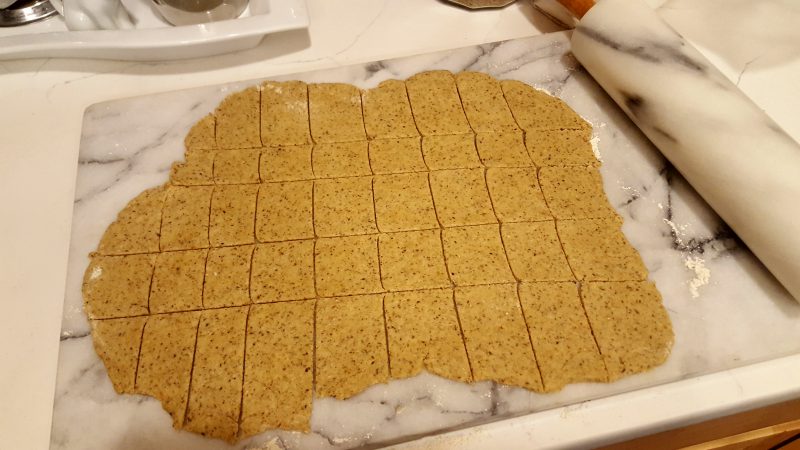 1 cup whole wheat pastry flour (or whole wheat, all purpose, or a combination; I had the pastry flour on hand)
3 tablespoons flax seed meal, chia seed meal, or a combination (I used a combo)
2 tablespoons nutritional yeast
1/2 to 3/4 teaspoon sea salt
1/4 teaspoon garlic powder
1/4 teaspoon onion powder
1/4 teaspoon smoked paprika (or the spice of your choice)
3 tablespoons coconut oil
Up to 1/2 cup water
Preheat oven to 450 degrees.  Place all ingredients in the bowl of food processor, including about half of the water or 1/4 cup.  Pulse until the dough comes together into a tidy ball, adding remaining half of water if necessary.  On a floured surface, like a pastry board or counter, roll dough to just slightly more than 1/8-inch thick.  Using a sharp knife, cut into small or large uniform or irregular crackers, transfer to a baking sheet lined with parchment paper or Silpat (silicone mat), and prick the tops with a fork.  Bake for about 13 minutes or until lightly browned.  Place baking sheet on a wire rack and cool crackers to room temperature.  Store in an airtight container at room temperature or freeze for a later date.