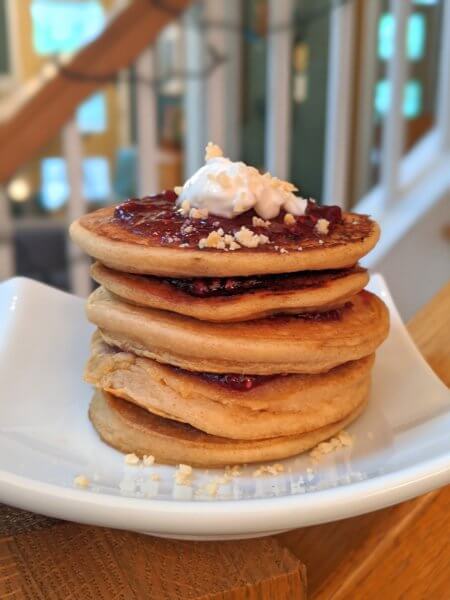 Yield: 6 pancakes (I ate one before the photo shoot!; approximately 500 calories for the entire recipe, including a compliments)
These taste like your best memory of peanut butter and jelly sandwiches from childhood, only better and so much more fun to eat.
1/4 cup of purpose flour
2 tablespoons granulated stevia (you can certainly use granulated sugar)
1/4 teaspoon baking powder
1/4 teaspoon baking soda
1/4 teaspoon sea salt
6 tablespoons non-dairy milk (I use flax with protein)
2 tablespoons creamy peanut butter
1/4 teaspoon almond extract
Accompanimentd: approximately 2 teaspoons raspberry or your favorite jam, 1/2 teaspoon vegan sour cream, barely a hint of finally chopped peanuts or almonds
Whisk together all ingredients except a compliments in a small bowl. Spray a skillet with non-stick spray and heat over medium. Using a tablespoon measure, create discs of batter about 2 in in diameter. Cook just a minute or two on the first side, flip, and repeat. Serve stacked with about 1/3 teaspoon jam between the pancakes and on top. Add a dollop of sour cream and a sprinkle of nuts.
#vegan #veganrecipes #veganfoodshare #veganfoodporn #plantbased #plantbasedrecipes #plantbasedfoodshare #plantbasedfoodporn #veganpancakes #plantbasedpancakes #peanutbutterandjelly #silverdollarpancakes