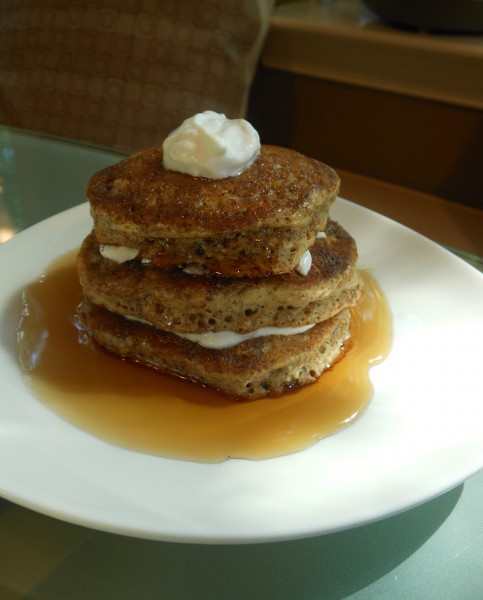 Yield: 1 serving (easily multiplies)
With a little more time in the morning on Memorial Day, perhaps these pancakes are just what you need to start your day…But they go together quickly enough for almost any day!
My sister-in-laws generously gave me a Nutri-Bullet as a hostess gift at Thanksgiving.  It is genus in design and engineering and I have been making smoothies religiously for breakfast, cutting way down on my Starbucks bill (I love their Green Tea Soy Frappuccinos!).
I was never much of a breakfast eater, especially on weekdays.  Even in high school, I preferred to drink my breakfast.  In those days, dairy was part of my diet, and I was a Carnation Instant Breakfast fan: just stir and go.
But on this sunny morning, I woke up and was craving something I could chew.  We had "Everything" bagels and Tofutti sliced cheese, but I wanted something with a little sweetness.  Since my husband and already eaten his bowl of oatmeal, I decided to whip up a very petite serving of pancakes that weren't nutritionally void.   Mentally scanning the pantry, I lighted on healthful flax seed and oatmeal.
They were divine.  Exactly what I wanted: something satisfying absent any heaviness.  And the recipe easily multiplies for as many as you want to feed.
Happy, Healthy Memorial Day!
1/4 cup all-purpose flour (I only keep white whole wheat on hand)
1 teaspoon natural sugar
1 tablespoon flax seed
1 tablespoon old-fashioned oatmeal
1/4 teaspoon baking powder
1/8 teaspoon baking soda
Pinch salt
4-5 tablespoons soymilk (or your favorite non-dairy milk; I prefer soy for its protein content), or enough to make a thick batter
Optional accompaniments: vegan sour cream and maple syrup
Spray a cast iron skillet with non-stick cooking spray and heat over medium-high.  Whisk together all dry ingredients in a small bowl, make a well in the center, add soymilk, and whisk until completely combined.  Spoon batter into skillet, evenly dividing to make three pancakes.  This batter really won't bubble, so look for a slight rise and a slightly toasty aroma which will take approximately  2 to 3 minutes.  Flip and, again, look for a little more pronounced rise and the same toasty aroma; again about 2 minutes.  Remove from skillet to plate and enjoy with your favorite accompaniments.  One of my favorite combinations is a little vegan sour cream spread between each pancake, a drizzle of maple syrup, and a dollop of sour cream on top.