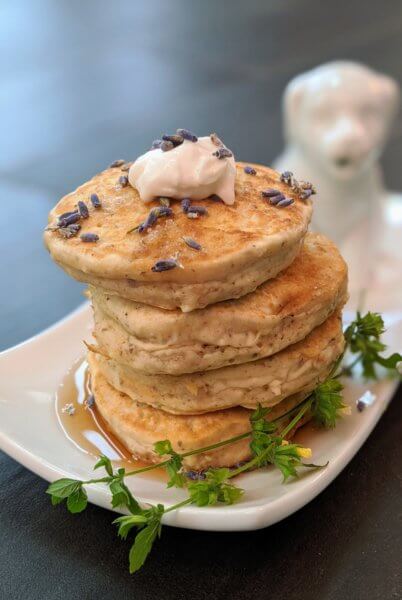 Yield: 6-2 inch pancakes (I consider this 1 serving, but easily multiplies)
These pancakes are like summer on a plate: light, floral, and lovely. But they are delicious without the lavender if that is just a little too floral for you. Regardless, you will definitely want to drizzle these with your favorite syrup. The little white ceramic dog in the photo is actually a single-serving pitcher.
1/2 cup flour
2 tablespoons sugar (I use granulated Stevia)
1 tablespoon flaxseed meal
1/2 teaspoon baking powder
1/2 teaspoon baking soda
1/8 teaspoon sea salt
1/2 teaspoon culinary lavendar
1/2 cup non-dairy milk (I use flax with protein)
Garnishes of choice: a dab vegan sour cream, culinary lavender buds, maple syrup
In a small bowl, whisk together all ingredients except garnishes. Spray skillet with non-stick spray and heat over medium-high. Using a tablespoon create three discs of batter about 2 inches in diameter. Cook a couple of minutes, flip, and cook a couple more minutes, just until golden brown and pancakes are cooked through. Repeat with more non-stick spray and remaining batter. Stack, garnish as desired, and serve immediately.
#culinarylavender #veganpancakes #plantbasedpancakes #silverdollarpancakes #vegan #veganrecipes #veganfoodshare #veganfoodporn #plantbased #plantbasedrecipes #plantbasedfoodshare #plantbasedfoodporn