I know it's just Tuesday, but I'm posting this now, so you can gather the ingredients and be all set come the weekend!
I love vegan French toast as it de facto lacks that "egginess" that I found unappealing in the dairy version even as a vegetarian.  I similarly prefer baked to pan sauteed French toast, as the former lacks the equally unappealing greasiness of the latter.  And, especially in the fall, I am crazy for all things pumpkin.
So my Baked Pumpkin-Bourbon French Toast is about as good as it gets for weekend morning fare at our house.  I spike this iteration 'cause I'm a South'ren girl.  But you can simply omit the bourbon.  Or, you can substitute brandy or a nut-flavored liqueur if you like.
Note that I'm not a big breakfast eater, so these are very moderate portions.  If you like to really get your breakfast or brunch on, just make more.  Or serve something on the side like, say, some baked fresh and dried fruit.
Oh, and don't forget the decaffeinated fair-trade coffee.  It's practically a must with this dish, as I find the body of coffee provides better balance with this dish than tea, though I'm usually a devout tea-drinker.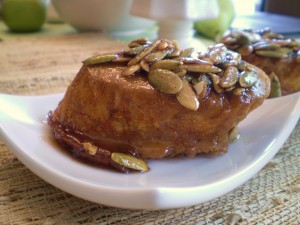 Yield: 4 servings
French Toast:
8 (1-inch thick) bias-cut slices of a long whole grain baguette (if bread is fresh, dry it out by placing it on a baking sheet in an oven preheated to 350 degrees for 3-5 minutes)
1/2 cup pumpkin puree
3/4 cup soymilk (unsweetened or plain)
2 tablespoons chickpea flour
2 tablespoons natural sugar (or maple syrup which is not quite as sweet)
Optional: 1 tablespoon bourbon
1/2 teaspoon vanilla extract
1/2 teaspoon pumpkin pie spice or to taste (or a combination of cinnamon, cloves and nutmeg)
Pinch sea salt
Vegan Pepita Caramel Syrup (recipe follows)
Optional garnish: a dusting of powdered sugar
Combine all ingredients except bread and syrup in a medium bowl.  Pour the mixture into a shallow pan or food carton that will just hold all bread slices in one layer.  Add the bread slices and let soak for 10 minutes.  Preheat oven to 350 degrees.  Oil an 8-inch glass or ceramic baking dish.  Flip bread slices and let soak for another 10 minutes.  (You make soak each side longer if desired, but a total of 20 minutes should be the minimum amount of time.)  Remove bread to baking dish and drizzle each slice with remaining custard.  Bake for 20 minutes or just until set.  Custard should still be moist.  Serve hot drizzled with Vegan Pepita Caramel Syrup and dust with powdered sugar for a nice contrast if desired.
Vegan Pepita Caramel Syrup:
1/4 cup vegan butter (I use Earth Balance)
1/4 cup maple syrup
1/4 cup roasted and lightly salted pepitas (pumpkin seeds; I purchase Trader Joe's brand)
2 tablespoons plain soy creamer
In a large cast iron skillet over medium-high heat, combine butter, maple syrup and pepitas.  Simmer gently, stirring constantly, for about 3 minutes or until thick and caramelized.  Lower heat if necessary to prevent mixture from scorching.  Add soy creamer–the mixture will bubble up–and cook for about another minute or until well-combined and heated through.  Serve immediately over Pumpkin-Bourbon French Toast.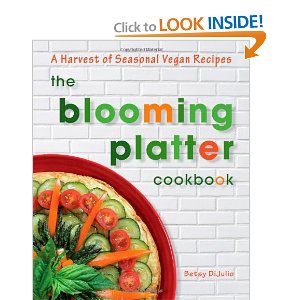 For 150+ additional recipes that celebrate fall, not to mention winter, spring and summer, I invite you to hop on over to Amazon and take a look at my new cookbook, The Blooming Platter Cookbook: A Harvest of Seasonal Vegan Recipes.