Yield: 1 serving of 4 silver dollar-sized vegan pancakes (recipe easily multiplies)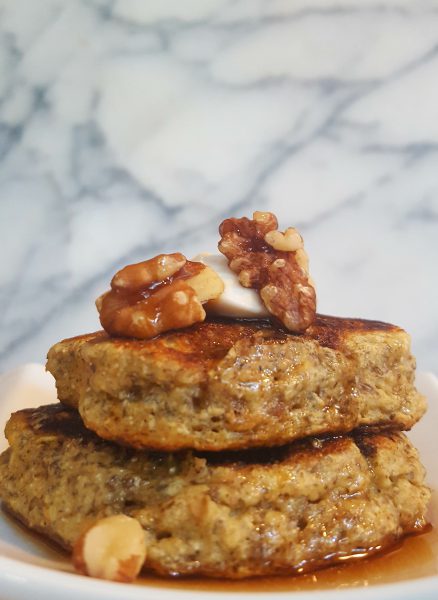 With more ground chia seeds and flax seed meal than I knew what to do with–courtesy of a friend's church pantry where the higher end donations from grocery stores apaprently aren't what the needy need–I wondered what would happen if I used equal parts flour and flax/chia seeds in a vegan pancake recipe, as opposed to the typical 2 to 3 tablespoons per cup or so of flour.
Nutritious deliciousnes is what happens!
Enjoy these low calorie, oil-free wonders for a quick, easy, and satisfying breakfast that refuses to weigh you down.
1/4 cup whole wheat flour or whole wheat pastry flour
2 tablesoons ground chia seeds
2 tablespoons flax seed meal
2 teaspoons Truvia (stevia sweetener) or the sweetener of your choice to taste
1/4 teaspoon baking powder
1/4 teaspoon baking soda
6 tablespoons unsweetened soymilk or other non-dairy milk
1/8 teaspoon almond extract
1/8 teaspoon vanilla extract
Optional Toppings:  maple syrup, vegan sour cream or nut butter, chopped nuts, fruit, etc.
Preheat skillet lightly sprayed with non-stick spray over medium heat. In a small bowl, whisk together all ingredients except toppings. Divide batter into four silver dollar-sized pancakes in skillet, gently smoothing the tops.  Cook a couple of minutes or until set around the edges and starting to turn golden brown on the under side (you can peek carefully). Carefully flip each pancake with a spatula and continue cooking on the opposite side until puffed, golden, and completely cooked through.  Adjust heat as necessary. Serve with your choice of toppings.
325 calories per serving of 4 silver dollar pancakes (if made with stevia sweetener and unsweetened soymilk; does not include syrup and walnuts)