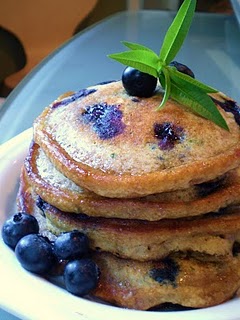 Yield: 8 pancakes
Just in time for your weekend breakfast is my latest pancake iteration…
I really did eat something besides pancakes last weekend. In fact, I have a delicious black bean salad to post soon and I would post my Vegan Lemon Verbena Meltaway cookies, only I forgot to photograph them before they were all eaten (we had a party Sunday night). I'll make them again soon, though, as they were so perfect for summer and there is a lot of lemon verbena growing in our garden.
You could certainly substitute some lemon zest, but I wouldn't know how much; just to taste I suppose. But lemon verbena imparts a little different taste. I think it's a little earthier somehow and not as astringent (though there's nothing wrong with a little astringency!).
So, if you can get hold of a lemon verbena plant, I would highly recommend it, as it has many tasty uses. This weekend alone, I made both hot and iced tea with it in addition to the cookies and these pancakes. Plus, I have all kinds of other things in mind, including salad dressings and savory dishes.
For now, though, back to the Vegan Lemon Verbena and Blueberry Pancakes:
For this recipe and some 170+ more,
I invite you to purchase my first cookbook:
The Blooming Platter:
A Harvest of Seasonal Vegan Recipes
Vegan Heritage Press
Spring 2011