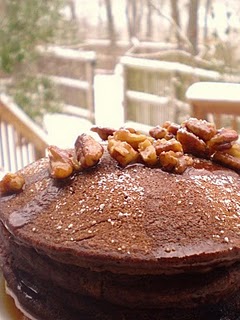 Yield: 6-8 pancakes
Honestly, I had never eaten–never wanted to eat–chocolate pancakes until this morning. They seemed to smack of the worst kind of pancake house "
Supersize
Me" travesty. You know, the ones smothered in sickly sweet sauce and whipped cream: dessert thinly–or rather thickly–disguised as the most important meal of the day.
But, today, we awoke to a fluffy blanket of snow and had a fire going before 9:30 a.m. Joe and I built a house in the 'burbs 10 years ago, but are tucked far back from the street on a forested dune along the banks of a salt marsh called Bennett Creek. (In many ways, it is the best of all worlds: Starbucks, Kroger and Home Depot are less than a mile away, and my husband and I both work a slow 10 minute drive away.)
Something about the whole scene made me crave not-too-sweet cinnamon-cocoa pancakes, especially since both of us had decided not to rush out. (In fact, we never left the house all day.) My go-to pancake batter happily accepted the additional ingredients to yield results that were scrumptious: perfectly balanced and appealingly subtle, yet with an appropriate depth of flavor.
I knew I didn't want an ice cream-style topping, so I doctored up my favorite real maple syrup, first with cinnamon, then with a little Kahlua and some pecans. Feeling it needed a bit of brightness from winter citrus, I added just a hint of orange juice concentrate. The flavor was unusual–but not weird–and unusually good. Then, because of the deep color of the pancakes, I decided to sprinkle them with a dusting of powdered sugar. When I did, I thought it looked just like a dusting of snow, so I ran to the deck door and photographed them against our winter wonderland.
Gary Loewenthal in Northern VA posted a comment saying he made these, also on a snowy morning, and really enjoyed them–noting that they're surprisingly not too sweet–substituting Cointreau for the Kahlua and garnishing with raspberries because that's what he had. Doesn't that sound delectable too?
Wherever you may be and regardless of your weather, you will want these unique pancakes for breakfast or brunch, if not today, then tomorrow for sure!
½ cup whole wheat flour
1/2 cup self-rising flour
4 tablespoons cocoa powder
4 tablespoons granulated sugar, brown sugar or a combination
1 teaspoon cinnamon
½ teaspoon baking powder
¼ teaspoon baking soda
3/4 cup unsweetened soy milk (plain or vanilla soy milk would also be good–regular or lite; I was out of soy milk, so I actually used 3/4 cup water mixed with 4 1/2 tablespoons of powdered soy milk–yum!)
1 tablespoon melted butter
pinch coarse sea or kosher salt
Vegan butter and/or vegetable oil for frying
Warm Vegan Cinnamon-Orange-Kahlua Maple Syrup (recipe follows)
Garnish: a dusting of sifted powdered sugar
Preheat oven to warm. In a medium mixing bowl, place first 7 ingredients. Make a well in the center and pour in soy milk and tablespoon of melted butter. Stir together with a wooden spoon until well combined. In a large cast iron skillet or griddle over medium-high heat, melt 1 tablespoon of the vegan butter, oil or a combination. (I like a combination: the oil reduces chances of burning while the butter contributes flavor.) Using a 1/4 cup measure, make pancakes, two at a time. Cook a couple of minutes on the first side until you get a nice rise, bubbles appear and the edges appear set. Gently flip and cook another couple of minutes on the reverse. Add butter and/or oil to keep skillet greased as needed. If pancakes are cooking too quickly, lower heat to medium, especially for second side. When cooked through, remove pancakes to plates or a serving platter, keep warm, and repeat with remaining butter and/or oil and pancake batter. Serve warm with Warm Vegan Orange-Cinnamon-Kahlua Maple Syrup and a sprinkling of powdered sugar.
Warm Vegan Cinnamon-Orange-Kahlua-Pecan Maple Syrup:
1/2 cup real maple syrup
1 tablespoon Kahlua
1 tablespoon orange juice concentrate
1/4-1/2 teaspoon cinnamon
pinch coarse sea or kosher salt
1/4 cup pecan pieces
Whisk together and heat gently in microwave for a few seconds.