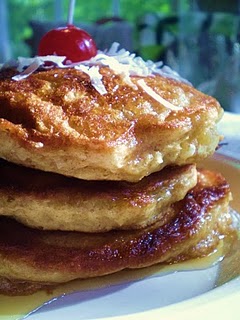 Yield: 8 pancakes
I'm not sure from whence inspiration comes, but yesterday I suddenly thought that if I didn't make pina colada pancakes this morning, I would simply burst. So, at 10:30 last night, after dropping my husband off at home following a dinner out, I drove to the grocery store to pick up a few ingredients.
The dried pineapple is perfect in these cakes because it doesn't add unwanted moisture, but it does add the most delightful nuggets of pleasant chewiness. (Don't confuse dried pineapple with the candied stuff that is probably alone responsible for the widespread aversion to fruitcake.) I thought of soaking the pineapple in rum, but I really like the toothsomeness of the dried pieces. However, feel free to soak away.
We're not big rum drinkers (accept in the occasional mojito), so we don't have it around our house, but if you do, by all means consider substituting it for rum flavoring. Just be careful when you heat the syrup that you don't accidentally flambe yourself.
½ cup whole wheat flour
½ cup self-rising flour
4 tablespoons granulated sugar
½ teaspoon baking powder
¼ teaspoon baking soda
1 1/2 cups unsweetened soymilk (plain or vanilla soy milk would also be good–regular or lite; I chose soymilk over coconut milk because of the former's thicker body)
1 1/2 teaspoons rum extract
1 cup flaked coconut (fresh or packaged–sweetened or unsweetened)
1 cup fairly finely diced dried pineapple (not the candied kind used in fruitcakes)
Vegan butter and/or vegetable oil for frying
Vegan Coconut Cream-Maple Rum Syrup (recipe follows)
Optional Garnish: approximately 4 tablespoons of additional flaked coconut (fresh or packaged, sweetened or unsweetened, raw or toasted) and 1/2 maraschino cherry per serving
Preheat oven to warm. In a medium mixing bowl, place first 5 ingredients. Make a well in the center and pour in soymilk and rum extract. Stir together with a fork until well combined. Stir in coconut and dried pineapple. In a large cast iron skillet or griddle over medium-high heat, melt 1 tablespoon of the vegan butter, oil or a combination. (I like a combination: the oil reduces chances of burning while the butter contributes flavor.) Using a 1/4 cup measure, make pancakes, two at a time. Cook a couple of minutes on the first side until you get a nice rise, a few bubbles appear, and the edges appear set. Gently flip and cook another couple of minutes on the reverse. Add butter and/or oil to keep skillet greased as needed. If pancakes are cooking too quickly, lower heat to medium, especially for second side. When cooked through, remove pancakes to plates or a serving platter, keep warm, and repeat with remaining butter and pancake batter. Serve warm with Vegan Coconut Cream-Maple Rum Syrup, a sprinkling of coconut and a half maraschino cherry on a pick.
Vegan Coconut Cream-Maple Rum Syrup:
4 tablespoons pure maple syrup
4 tablespoons Cream of Coconut (it's vegan!)
1/2 teaspoon rum extract or to taste
Whisk together and heat gently; about 30 seconds in the microwave will do the trick. Note: you can make as much syrup as you like; just whisk together equal parts of the maple syrup and Cream of Coconut and adjust Cream of Coconut to taste.