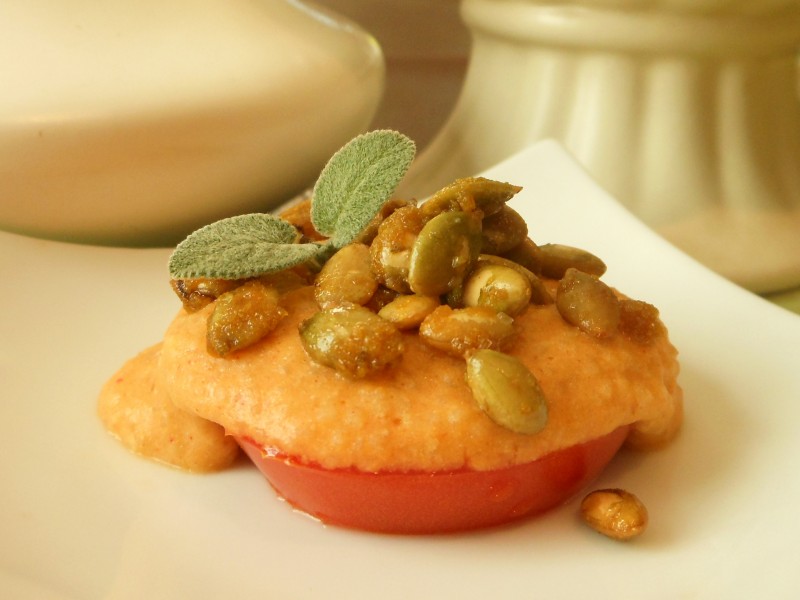 Yield: 4 servings
This golden and delicious dish personifies fall.  Whether you serve it for breakfast or brunch, as tapas, or as a side dish, it is sure to satisfy as a warm and comforting ode to autumn.
When I was growing up, my family probably ate cheese grits for breakfast on more Sundays than not.  When I became vegan, I learned that cheesy grits need not be a faint and distant childhood memory, thanks to nutritional yeast.
For this recipe, I make the grits even more creamy and golden, with just a hint of smoke and savory sweetness, by incorporating coconut creamer, smoked paprika, vegan butter, and pureed pumpkin.  The creaminess of the grits is perfectly set off by crunchy pepitas lightly toasted with more nutritional yeast, salt, and just a hint of maple syrup.
For some recipes, the garnish is nice, though not necessary.  But for this one–though I would still make the dish even if I didn't have fresh sage growing in the garden–I feel that tiny, tender and very young sage leaves add the perfect finishing touch to balance and accent all of the other flavor notes.
Find the simple and simply addicting recipe HERE at One Green Planet!