Yield: 16 brownies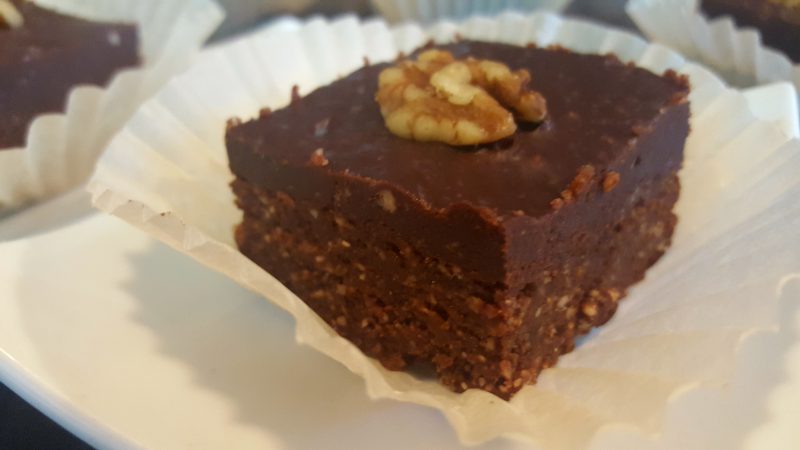 Be prepared to have your world rocked.  While there's not a thing in the world wrong with a baked brownie in my partially-raw world, I have enjoyed experimenting with raw foods this summer, and enjoy not having the oven and stove on. Plus it's just an exciting new culinary world to explore.  I think you'll agree.
To date, I had mastered a (practically) raw carrot and a coconut cake–yowza!–and these brownies are definitely on a par.  And they slice beautifully with little effort save some pressure on a serrated knife.  Next up are donut holes, so stay tuned.  In the meantime, I am delighted to share this recipe.  These are fantastic cold and amazing heated for about 20 seconds in the microwave and served with your favorite softened non-dairy ice cream.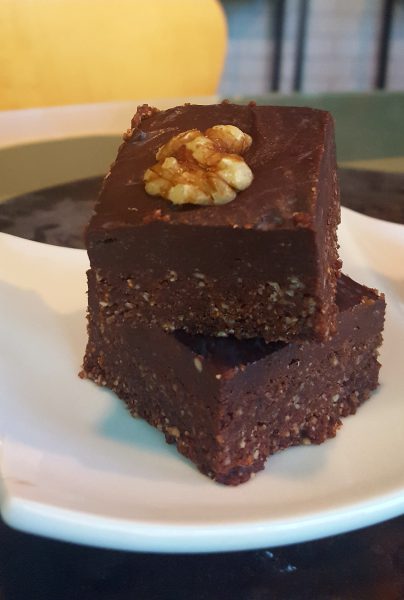 Note: Since I am not a raw vegan, I am not concerned about whether all ingredients in my recipes are raw for myself, BUT I am concerned with accurate representation for those who are strict rawtarians, as I respect that choice.  So, the only non-raw ingredients in the brownies are the extracts and the Allemande. Simply substitute water for completely raw brownies.   However, the frosting is not raw, period. I am not a nut butter frosting fan, but if you want a raw frosting, that is probably your best bet.  
1 cup raw slivered almonds
1 cup raw cashew pieces
1/2 cup cocoa powder
1/4 teaspoon sea salt
2 1/2 cups mixed dates, dried apricots, and dried figs, but at least 1 1/2 to 2 cups dates (use only pump and moist dried fruit)
2 tablespoons Bailey's Allemande or water
1 teaspoon almond extract or water
1 teaspoon vanilla extract or water
Vegan Fudgy Ganache Frosting (recipe follows)
Garnish: 16 walnut halves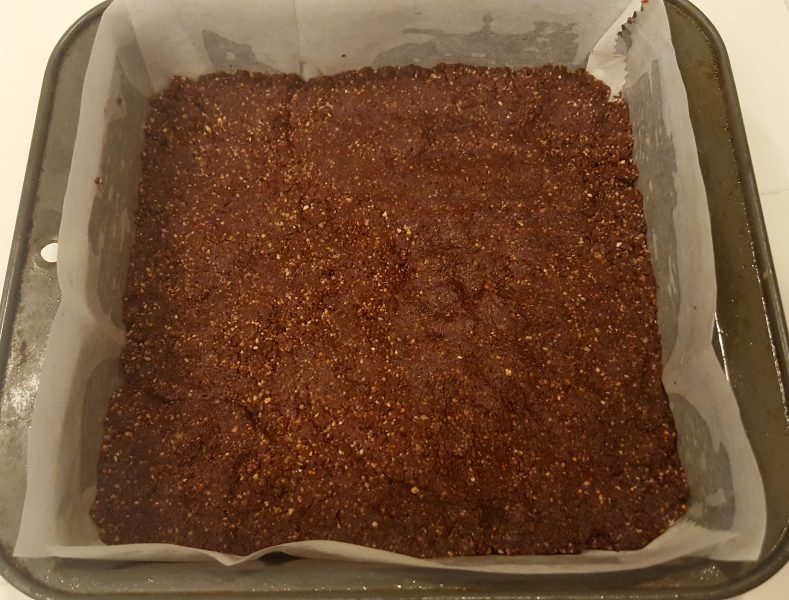 Spray an 8-inch square baking pan with non-stick baking spray and line with parchment paper.  (So as not to have crinckled corners, I like to line the pan with two scant 8-inch wide pieces of parchment, lying them vertically and horizontally and spraying both on the bottom and in between.)
In a food processor, process together nuts, cocoa powder, and salt,  Temporarily transfer mixture to a small bowl.  In same bowl of food processor, process dried fruit, Allemande, and extracts (or water).  Temporarily transfer this mixture to a small bowl.  Return nut mixture to processor and, with motor running, drop walnut-size pinches of fruit mixture through the chute until mixture is homogenous and a dough like consistency when pinched together.  Press evenly into pan, cover, and refrigerate while you make the frosting.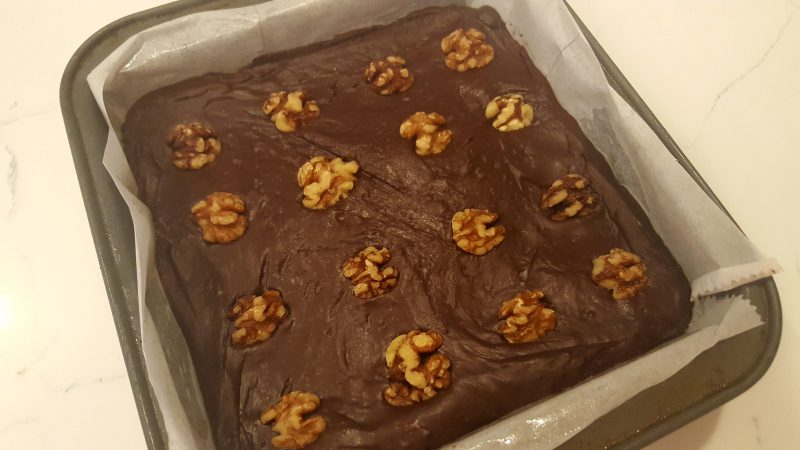 Spread frosting evenly over brownies and place walnut halves in 4 even rows, 4 to a row.  Cover and refrigerate several hours.  When ready to serve, lift out of pan, and slice with a serrated knife.  Serve immediately or package for gift giving.  I like to place each square in a parchment cupcake or muffin paper and stack them 2-deep in a square covered food storage container stored in the fridge.
Vegan Fudgy Ganache Frosting
3 tablespoons unsweetened soymilk (or the nondairy milk of your choice; a little sweetener won't hurt a thing)
2 tablespoons Allemande (or substitute the liqueur of your choice or even more soymilk)
1 cup vegan chocolate chips
2 tablespoons vegan butter (or coconut oil + 1/8 teaspoon salt)
1/2 teaspoon vanilla extract
1/2 teaspoon almond extract
1/2 cup powdered sugar
In a small bowl, heat soymilk and Allemande in microwave.  Add chocolate chips and vegan butter, and let sit for a couple of minutes. Whisk until melted and smooth.  Whisk in extracts and powdered sugar until very smooth and creamy.  If too thick, add a bit more soymilk or Allemande; if too thin, adjust with more powdered sugar.