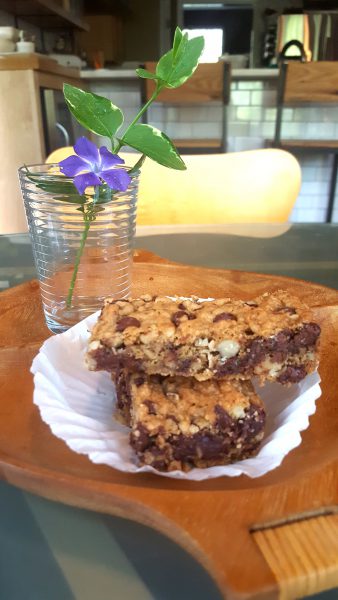 Yield: 16 bars
Wanting to try a blondie or cookie recipe with the white beans in my pantry, I searched and searched online but couldn't find a recipe that quite suited me: they had to look beautiful, contain basic wholesome ingredients, and be the ideal texture. So I decided to create my own.
These blondies are truly fabulous–everything you would want in the perfect Blondie–and get my very picky "omni" partner's two thumbs up of approval.
I substituted 1/4 cup of mashed white beans + 1/4 cup of Bailey's Almande liqueur, along with baking soda and baking powder, for an egg. But feel free to use another liquid, even non-dairy milk, or a different liqueur.
8 tablespoons vegan butter
1 cup demerera or lightly packed dark brown sugar
1/4 cup drained and mashed white beans
1 1/2 teaspoons vanilla extract
1/2 teaspoon almond extract
1 cup all-purpose flour (I use white whole wheat)
1 teaspoon baking powder
1/2 teaspoon baking soda
1/4 cup liqueur (I like Bailey's Almande)
1 cup vegan chocolate chips (white or dark)
1 cup chopped nuts (almonds, walnuts, black walnuts, pecans, or cashews)
Preheat oven to 350 degrees. Grease an 8-inch metal pan or spray with nonstick sray. Line in one direction with a 4 or 5-inch strip of foil or parchment paper folded over top edges for ease of blondie removal.
In the bowl of an electric mixer, cream butter and sugar until blended. Add the beans, vanilla, and almond extract, and continue to beat until  smooth. Add the flour, baking powder, baking soda, and liqueur, and mix on low speed until fully incorporated.  Do not over beat. Add chocolate chips and nuts and blend on low speed to evenly distribute.
Spread the batter evenly in lined pan and bake 25 minutes until a toothpick inserted into the middle comes out relatively clean. Cool completely and then cut into 16 bars.