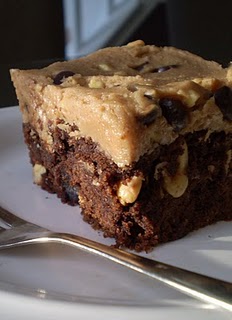 Okay, so I said that the only thing that might make my Vegan Peanut Butter, Banana, Graham Cracker Brownies better was frosting, but that that "almost seems too decadent if there is any such thing." Turns out there isn't. The brownies are really good unadorned. But, with this frosting, they should be a controlled substance.
1/4 cup vegan butter, softened (I like Earth Balance)
1/4 cup vegan cream cheese, softened
1/4 cup plain or chunky organic peanut butter, room temperature
1 teaspoon vanilla extract or 3/4 teaspoon vanilla extract plus 1/4 teaspoon almond extract
up to approximately 3 cups powdered sugar
1/4 cup vegan semi-sweet chocolate chips, slightly softened in microwave (some whole chips should remain)
In a small bowl, by hand or with an electric mixer, cream together first four ingredients. Beat in powdered sugar until smooth and the desired spreading consistency is reached. Then stir or beat in chocolate chips. Use to frost your favorite brownies or cupcakes.