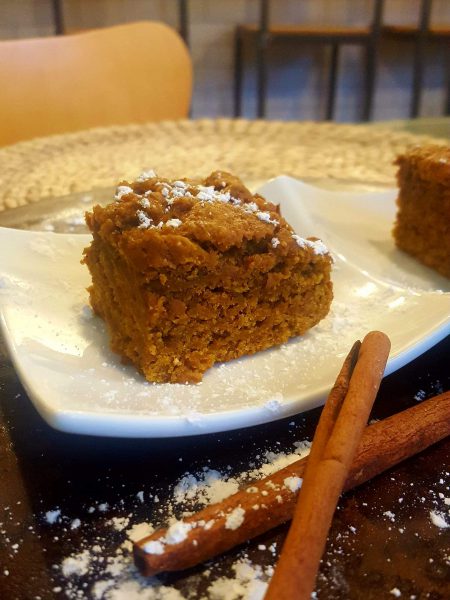 Vegan Pumpkin Cake Bars
Yield: 16 servings (app. 150 calories each)
Somewhere between what we used to call a snacking cake and a bar, this vegan treat is quick, easy, moist, and delicious.  The texture and rise are just right and, though it needs nothing, not really even a dusting of powdered sugar, it would be decadent with a vegan cream cheese, caramel or praline frosting.
2 cups all-purpose flour (I use white whole wheat)
3/4 cup natural Demerara sugar
1 teaspoon molasses
1 teaspoon baking powder
1 teaspoon baking soda
1 tablespoon pumpkin pie spice
1-15 ounce can pureed pumpkin
1/2 cup vegetable oil
1 to 2 tablespoons water, if necessary
Preheat oven to 375 degrees.  Grease 8-inch pan.  In a large bowl, whisk together dry ingredients.  Add pumpkin, oil, and water, if desired, for a smooth consistency, and stir together just until completely combined. Transfer to prepared pan and gently smooth top. Bake about 20 minutes or until a toothpick inserted in the center comes out clean. Cool on wire rack, slice, and serve. Keeps well tightly covered.
#vegan #veganrecipes #veganfood #veganfoodshare #veganfoodporn #plantbased #plantbasedrecipes #plantbasedfood #plantbasedfoodshare #plantbasedfoodporn