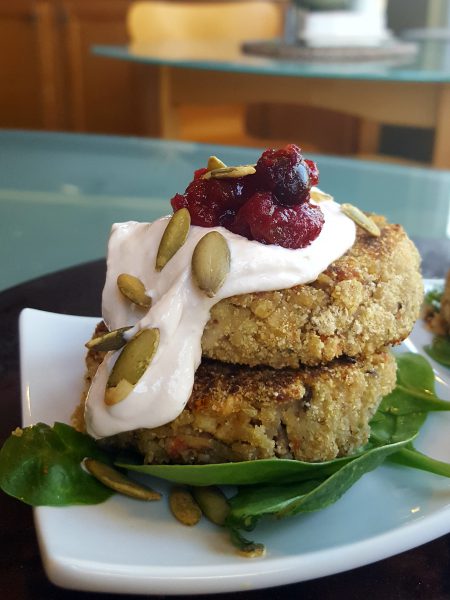 If you have one of "those" bean salads hanging around in your refrigerator–you know, tasty enough, but not exciting enough to eat over and over again–STOP!  Don't throw it out or force yourself to eat it as is.
Instead, make my newest "burger" creations.  These could not be quicker, easier, nor tastier.
With a salad similar to the lovely one below in the fridge leftover from my mother's New Year's Day tradition of eating black-eyed peas for good luck–it was good, but unremarkable enough that I didn't photograph and post (such salads are a dime a dozen)–it suddenly occurred to me that I could use it as the basis for a bean burger.  But I didn't want to use the traditional high calorie binder of nuts or flour or even oatmeal because I didn't have any.  But I did have brown rice cakes (vastly superior in flavor and texture to the white rice ones, as  I recently discovered).
(photo credit: Sheila Thigpen on Epicurious)
Perusing my pantry, it occurred to me that rice cakes might be just the perfect moisture-absorbing binder I sought.  It turns out that one rice cake per one cup of salad binds perfectly, lending a lovely–I'd say ideal–texture.  Of course, it will depend on the moisture in your salad, so be prepared to add more or perhaps even less.
And for an exterior with an irresistible crusty crunch, I experimented with plain, unseasoned yellow cornmeal.  It was perfect.
Regarding presentation, more Snow Days, courtesy Winter Storm Grayson, than we have had since I begin my teaching career 15 years ago meant that my weekday lunches looked a little different than they do on my art room desk at school.  For the nicest presentation, go for height and color contrast.  I made my cakes small-ish and thick-ish, akin to a crabcake.  And I stacked two on a nest of fresh baby spinach, topping them with a little vegan sour cream and cranberry relish–red is the complementary color of green–leftover from Christmas, finishing with a sprinkling of roasted and lightly salted pepitas.  The combination earns an A+ according to my stringent rubric.
(Note: certainly, you can serve this burger on a bun if you choose, but I prefer mine open-faced, as bread just provides too many calories and not enough nutrition in my diet of around 1,500 to 1,700 calories per day.  Keeps me in fighting form!)
I hope you agree.
Vegan Black-Eyed Pea (or Bean) Burgers
Yield: 4 patties
2 cups black-eyed pea or any bean salad
2 brown rice cakes crumbled (may require more or less depending on moisture in your salad)
1/3 cup yellow cornmeal
Vegetable oil
Optional accompaniment: baby spinach or your favorite greens
Vegan sour cream or your favorite sauce
Vegan relish or salsa (I used cranberry relish leftover from Christmas)
Optional garnish: roasted and lightly salted pepitas or your favorite nut or seed
In a food processor, pulse bean salad until it is finely minced and just starting to hold together.  Crumble 1 1/2 rice cakes into the processor and continue to pulse until the mixture begins to come together almost like a cookie dough, but with lots of texture and flecks of color.  Add the remaining rice cake or more if needed to achieve the desired consistency.  Remove mixture to a bowl and, using a scoop or spoon, compact 1/4 of the dough into a patty about an inch tall.  Set on a plate.  Repeat with remaining mixture to make 4 patties.  Place yellow cornmeal in a shallow bowl and lay each patty on top, patting the cornmeal onto all the surfaces, flipping for a nice even coating top and bottom.  Heat a very thin layer of vegetable oil in a skillet over medium (or at whatever temperature gives you a nice sizzle).  Carefully place each patty into the pan, cook 3 minutes or until lightly browned on the first side, flip, and cook 3 more minutes or until lightly browned on the reverse.  Serve on a bed of baby greens, drizzle with vegan sour cream or a favorite sauce, top with a dollop of relish or salsa, and sprinkle with the nut or seed of your choice.