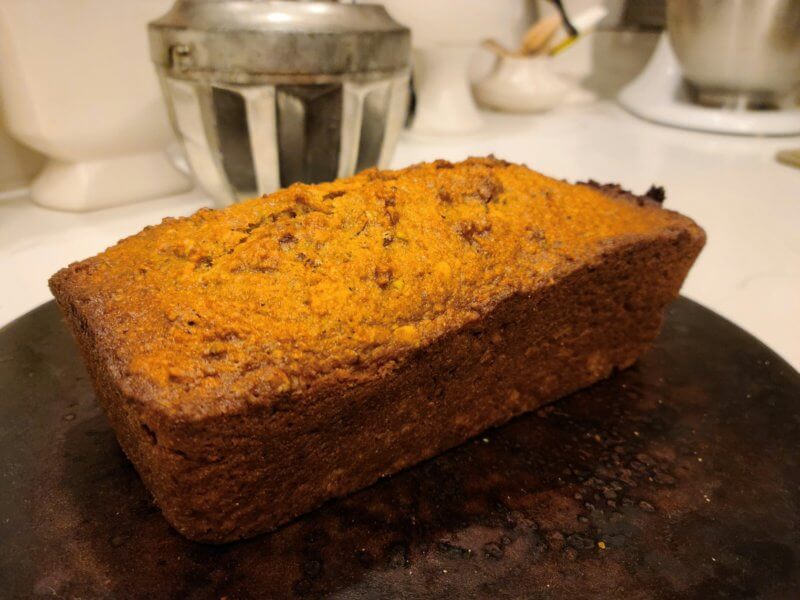 Who am I kidding? This luscious bread is really a cake!
Gifted to yet another helpful colleague, my latest creation with the apples leftover from lunches at my new school–which surely owns an orchard–is simply insane in the flavor and texture departments.
If you are thinking that oatmeal=dry and crumbly, think again…and try not to do a header into the batter!
3 apples, stemmed, cored, and cut into chunks
1/2 cup vegetable oil
1 cup sugar
2 cups flour
1 teaspoon cinnamon
1 teaspoon baking powder
1/2 teaspoon baking soda
1 teaspoon vanilla
1/2 cup old fashioned oats
Preheat oven to 350 degrees. Grease a 5 x 9″ loaf pan. In food processor, process apples until finely chopped. Add remaining ingredients and process just until well combined. Stir in oatmeal. Transfer into prepared pan. Bake 50 minutes or until wooden pick inserted on center comes out clean. Cool in pan 10 minutes. Invert onto wire rack to cool completely.
#vegan #veganrecipes #veganfoodshare #veganfoodporn #plantbased #plantbasedrecipes #plantbasedfoodshare #plantbasedfoodporn #plantbasedapplebread #veganapplebread #plantbasedapplecake #veganapplecake