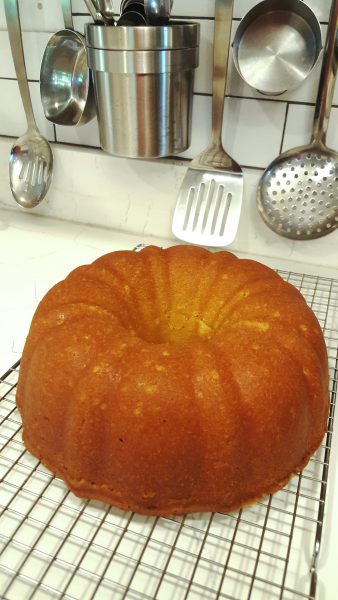 Yield: 1-10 inch bundt cake
Toss out all other vegan poundcake recipes–including the other one here on The Blooming Platter–as THIS is my best bloomin' poundcake…ever!
My search for the quintessential poundcake began in my youth, well before I became vegan, when I was drug to a "dinner on the grounds" at my grandmother's country church in rural Mississippi.  There, where covered tables set end-to-end stretched over rolling hills under big oak trees for what seemed like as far as the eye could see, I had a religious experience.
That is, I tasted pure heaven in the form of a mammouth poundcake such as I had never before tasted.  Its crust was a little thick–exactly right–and the tiniest bit chewy in contrast to the almost creamy center, dense but not heavy.  It was the Platonic ideal of poundcakes.
Not knowing who made it or how to procure the recipe, I did what any other determined MS high school student would do in pre-internet days: I called the home economist at the local extension service and picked her brain.  I did the same with the home economics teacher at our school, I combed through cookbooks, and I experimented.  But the perfection of this poundcake eluded me for oh, say, a couple of decades.
Then, in February of 2000, Southern Living Magazine published the Two-Step Pound Cake  in their "Taste of the South" column. Ecstatic, I could tell from the photo that THIS was the Holy Grail I had long sought.  And I loved that their test kitchen experimentation had rendered the old, time-consuming method of creaming butter and sugar until fluffy, adding eggs one a time until incorporated, and adding the milk and flour in alternating increments obsolete.
They advocated placing all room temperature ingredients in the bowl of a heavy duty stand mixer and beating for 3 minutes.  And they could not have been more right.  The only change I made to substitute buttermilk for whole milk.
Eight years later, I became a vegan. Determined to veganize my go-to poundcake, I failed utterly.  The 3/4 cup of buttermilk was no problem thanks to unsweetened soymilk and vinegar.  It was those six eggs.  No egg replacer did the trick.  Eventually, I found a recipe online that I tweaked and published here, one that is hugely popular with readers.  But it is made in a loaf pan, calls for tofu, and is very close to, but not quite, the chosen one.
This past weekend, going to couple friends' home for a Cuban feast on Sunday evening, I wanted to take them a gift to thank the woman, Barbara, for remaking a quilt of Bob's that had come unstitched.  I knew she wouldn't take money and, for some reason, I wanted to make a big beautiful poundcake.  I think the most recent issue of Southern Living–to which I mostly subscribe for Rick Bragg's "Southern Journal" column–had planted the seed because they featured yet another "best" poundcake, this one a cream cheese variety.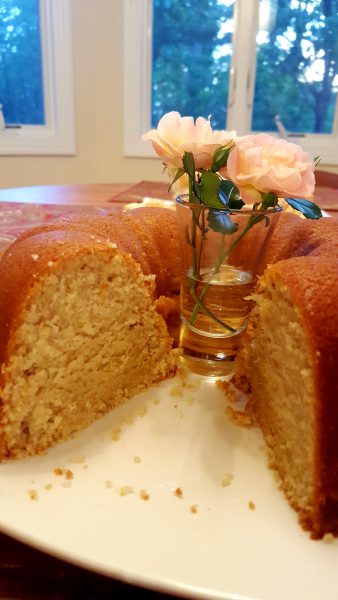 Feeling confident, something told me that a commercial product fairly recently available in our area might be the missing link: Veganegg.  I could not have been more right.  I made the recipe with just the slightest tweaks and this cake baked up perfectly, rising and not falling; turned out of the pan without so much as a stutter; and cooled into a dome of perfect.
Something told me it was going to look perfect on the inside and taste even better so, though I insisted the cake was a gift and that Barbara should not serve it, she insisted that she wanted to try it, and I was secretly glad–and a little relieved–that it looked as beautiful inside as out and it's texture and flavor were exactly right.  It was utterly addicting and comforting in that sitting-under-a-cotton-towel-on-grandmother's-kitchen-table-with-the-back-door-open-on-a-summer-day kind of way.
To make Veganegg, you simply whisk together 2 tablespoons of the powder with 1/4 cup ice water.  For six eggs, I used 3/4 cup powdered Vegan Egg and 1 1/2 cups ice water.  However, I reduced the buttermilk in my recipe from 3/4 cup to 1/2 cup because, while eggs are almost 1/4 cup of liquid, they aren't quite, so the Veganegg yields a bit more egg mixture than if I had used eggs.
Also, because Veganegg is colored with turmeric and flavored with black salt for that sulphery, eggy flavor that is just right in savory dishes, it is a little strong in sweet ones.  So, I added an additional teaspoon of vanilla and a half teaspoon of almond extract to neutralize that flavor.  I wouldn't change a thing.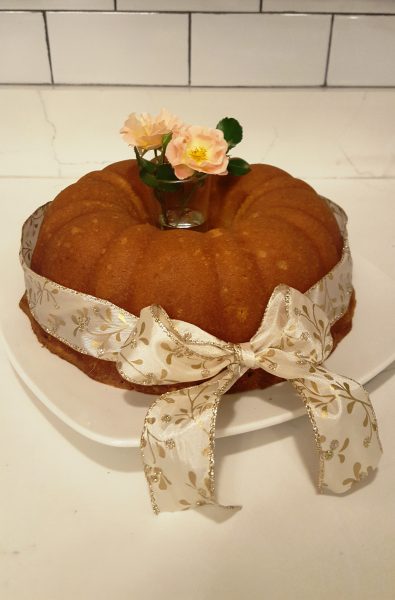 This poundcake is beautiful unadorned, but if you want to guild the lily, as I did for Barbara's gift, you might consider my simple approach: I purchased a white platter from the thrift store, wrapped the cake in wired ribbon that I tied in a bow, and slipped a thrift store shot glass in the center into which I placed a couple of mini-peach roses from our garden.
Pretty enough for the magazine that inspired it.
Note: due to the volume and heft of ingredients, a stand mixer with a 4 quart bowl is highly recommended for this cake.
Betsy's Best Bloomin' Poundcake
Place ingredients in 4-quart bowl of a heavy duty electric stand mixer in order listed:
4 cups all purpose flour (I use white whole wheat, which will lend a slightly darker color)
3 cups sugar (I use organic cane sugar, which will also lend a slightly darker color)
1 pound vegan butter, room temperature and softened (I use Earth Balance)
1/2 cup vegan buttermilk (I whisk together 1/2 cup unsweetened soymilk and 1 tablespoon apple cider vinegar)
6 Veganeggs [3/4 cup Veganegg brand egg replacer (shake well before using) and 1 1/2 cups ice water whisked together to completely combine]
1 tablespoon vanilla extract
1/2-1 teaspoon almond extract
Preheat oven to 325 degrees.  Oil and flour a 10-inch bundt pan.  (I use Baker's Joy with oil and flour combined in a fluted style bundt pan.) Beat ingredients at low speed for 1 minute, scraping down sides of bowl as necessary.  Then beat at medium speed for 2 minutes or until smooth and creamy.  Avoid over-beating.  Transfer into prepared pan and bake for 1 1/2 hours or until a wooden pick inserted near the center comes out clean.  Cool cake in pan on a wire rack for 10 minutes, then invert onto rack and cool completely.  When cake is mostly cool, cover with a dish cloth.  Slide onto a serving platter, decorate as desired, and serve.  Cover any leftovers tightly.