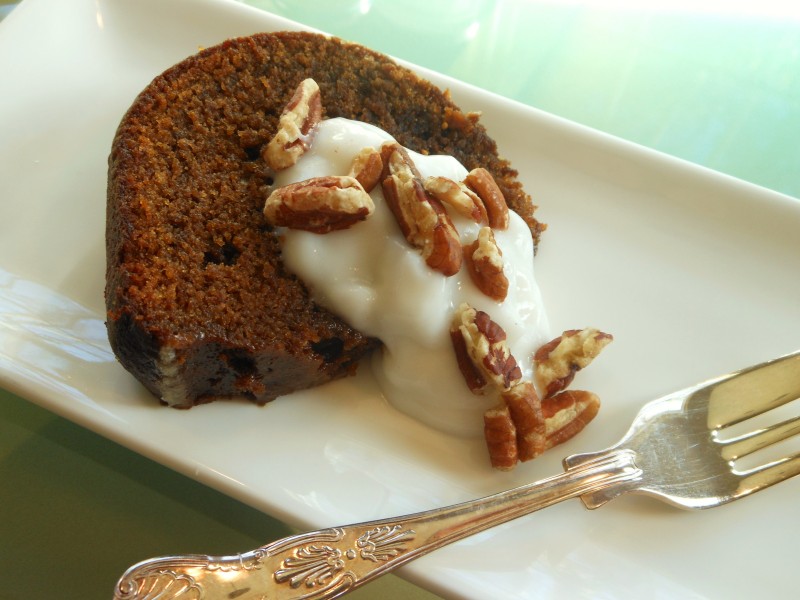 With a lone bottle of root beer in the fridge from I-don't-know-when (I rarely if ever drink a soda, even organic) and the mention of gingerbread in Donna Tartt's latest novel, The Goldfinch (which I highly recommend), I woke up today dead-set on making a gingerbread bundt cake with that root beer.  However, it seemed to need something else, as I have a delicious recipe for one with ginger and cola on The Blooming Platter and I was wanting to create something new.
I browsed around in the grocery store for just the right thing for my spicy cake, tucking an orange into my basket for some nice winter citrus notes, but I still wasn't satisfied, as the other cake also includes orange.  Putting away my few groceries, I noticed that I had both Calmyra and mission dried figs plus almond paste in the pantry.  Perfect!  My bundt cake would have a fig, pecan, almond paste, and orange zest tunnel of love.
Only the tunnel part didn't quite work out.  The filling dispersed itself into the batter creating a deeply complex, spicy and ultra-moist, rich mahogany brown cake.   Heavenly. Is it worth creating the filling even if it doesn't create a visual contrast through the middle of the cake?  You bet it is!  In fact, this cake is such a "winner" that I decided to enter it in the So Delicious 3-Course Recipe Contest because I use three of the delicious and nutritious So Delicious products in this one recipe!
Filling:
8 Calmyra dried figs, stemmed and quartered
8 Mission dried figs, stemmed and quartered
3/4 cup organic root beer, heated
1 cup pecan pieces
Zest of 1 large navel orange
1/4 cup almond paste (I purchase it canned in the grocery store on the baking aisle)
1 tablespoon natural sugar
1/8 teaspoon sea salt
1 tablespoon brandy (bourbon or port would be lovely too)
Place figs in a small bowl and pour heated root beer over.  Let sit for 30 minutes; drain, reserving root beer.  In a food processor, pulse pecans a few times, add drained figs, pulse a few more times, then almond paste, and pulse again.  Add remaining ingredients and pulse just until all ingredients are finally chopped, and coming together almost like a very textured cookie dough.  Set aside while you prepare cake batter.
Cake:
2 1/2 cups unbleached all-purpose flour
1/2 cup natural sugar
2 teaspoons baking powder
2 tablespoons ground ginger
2 teaspoons cinnamon
1 teaspoon five spice powder
1/2 teaspoon ground cloves
1/2 teaspoon sea salt
1 cup canola oil
1 cup molasses (not blackstrap)
1/2 cup maple syrup
1/2 cup So Declicious Coconut Milk
1/2 cup So Delicious Coconut Milk Creamer
1 cup root beer (1/4 cup from the drained figs + an additional 3/4 cup)
1 teaspoon baking soda
Vegan Orange-Almond Glaze
Optional garnish: pecans and orange zest
Optional accompaniment: So Delicious Cultured Coconut Milk
Preheat oven to 350 degrees.  Grease and flour a srandard (10-inch) bundt pan.  Place all dry ingredients, except baking soda, in a large bowl.  Make a well in the center and pour in all wet ingredients, except root beer.  Whisk together just to incorporate the wet ingredients into the dry.  In a small bowl, add baking soda to root beer–it will fizz–and then whisk root beer into the cake batter just until incorporated.  Pour half of batter into prepared pan.  Sprinkle filling evenly over the top sruface, and pour remaining batter evenly over filling to cover.  Bake for 50 minutes or until a toothpick inserted in the center comes out clean.  Let cool on a wire rack for 15 minutes, loosen around both outside and inside edges with a plastic knife, and invert onto serving platter.  Let cool.  *Drizzle with glaze.  Garnish if desired.  Serve thin slices with a spoonful of yogurt if you like.  Note: if you want to achieve utter decadence, brush cake with a tablespoon or two more brandy (or bourbon or port) before glazing.
Vegan Orange-Almond Glaze:
Juice of 1/2 of the previously zested orange
1 tablespoon non-dairy creamer (soy or coconut milk)
1/4 teaspoon almond extract
3/4 cup powdered sugar
Whisk together all ingredients in a small bowl until smooth.