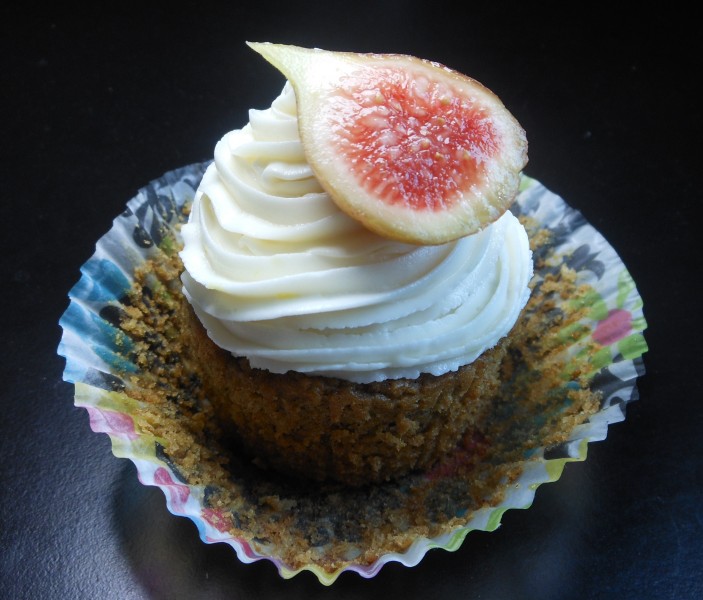 Yield: 1 dozen cupcakes
These may possibly be the moistest cupcakes you will ever put in your mouth!
A pint of fresh figs from a local farm market that needed used fairly quickly resulted in these beautiful confections.  I originally published this recipe with soymilk, but that's before almond milk became so widely available.  Since I'm not necessarily looking for protein in a decadent dessert, the subtle flavor of almond provides the perfect flavor notes in combination with the fig, lemon, and brandy.
And that being the case, I decided to enter this recipe in the "Sweet" category of the ultimate Snackable Recipe Contest sponsored by the dynamic duo of Go Dairy Free and So Delicious Dairy Free to celebrate the release of the FREE Snackable eBook.
Contestants may enter two recipes in the Savory, Sweet, or Sippable categories and this is my first "Sweet."
The lemon in the buttercream frosting  provides a subtle but bright contrast to the cinnamon-scented fig cupcakes, while the brandy flavoring (use real brandy if you have it–my husband forbids me, jokingly–sort of–to use his)  accents their ripe, earthy fruitiness for the perfect summer wedding of flavors.
Vegan Fresh Fig Cupcakes with Vegan Lemon-Brandy Buttercream Frosting
1 cup So Delcious Original Almond Plus Milk
1 tablespoon apple cider vinegar (I have used rice wine vinegar in a pinch and it works just fine)
1 1/2 cups unbleached all-purpose flour (I typically use white whole wheat)
3/4 cup + 2 tablespoons natural sugar
1 teaspoon ground cinnamon
1 teaspoon baking soda
1/2 teaspoon baking powder
1/4 teaspoon sea salt
1/3 cup walnut oil or canola oil
1/2 teaspoon vanilla extract
18 to 20 small-medium fresh figs, stemmed, and pureed in a food processor
Vegan Lemon-Brandy Buttercream Frosting (recipe follows)
Garnish: 12 fresh fig halves
Preheat oven to 350 degrees.  Line 12 muffin cups with paper liners.  In a small cup or bowl, whisk together almond milk and vinegar to make a vegan "buttermilk."  When it curdles, whisk again and set the mixture aside.  In a large bowl, whisk together the flour, sugar, cinnamon, baking soda, baking powder, and salt.  Make a well in the center of the dry ingredients and add the soymilk mixture, oil, and vanilla extract.  Stir just until all ingredients are well combined and no lumps remain.  Stir in the fig puree until completely combined.  Fill muffin cups no more than 3/4 full and bake for 20-22 minutes or until a wooden pick inserted in the center comes out clean.  Cool completely on a wire rack, and then remove cupcakes from tin.  Place frosting in a pastry bag fitted with a star-type tip, and pipe on top of cooled cupcakes in concentric circles, spiraling high.  Top with a fresh fig half just before serving.
Vegan Lemon-Brandy Buttercream Frosting:
1/2 cup vegetable shortening
1/2 cup vegan butter
4 cups powdered sugar, divided
2 tablespoons  So Delcious Original Almond Plus Milk
1 teaspoon vanilla
1 teaspoon brandy flavoring
Zest of 1/2 large lemon
In the bowl of an electric mixer, cream together shortening and vegan butter.  With mixer on low, beat in half of powdered sugar and half of almond milk.  Repeat.  Beat in vanilla, brandy flavoring, and lemon zest, and then turn mixer to high and whip until creamy-fluffy.