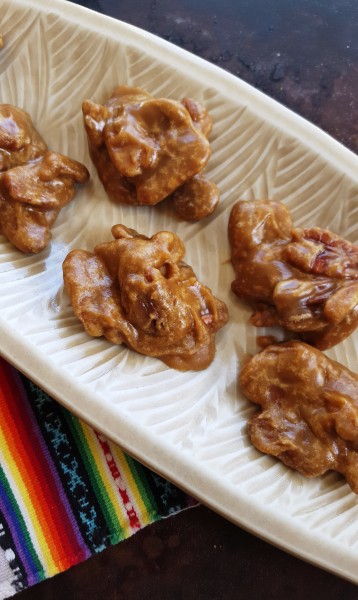 Yield: approximately 16 to 20 pralines
I grew up in Texas and Mississippi near New Orleans, so I know pralines.  But I was just always a little intimidated to make them, as my mother, a talented cook, would lament how hers would "sugar."
It's tricky because pralines are not smooth like caramel, but they are not crystalized either.  If you have ever enjoyed a praline frosting on a cake or brownies, that's the mouth-feel you want: smooth-ish, but with a hint of fine sand-like texture.
Yesterday pretty much house-bound in this East Coast snow storm and with company coming to make vegan tamales for dinner, I wanted something small but sweet and keeping with the Mexican theme.  Missing my Mama on that gray, blustery, cold and snowy day, I decided to channel her candy-making prowess–she made mean English Butter Toffee even if pralines eluded her–and give it a whirl.
But, first, I did a little research to pick up a few tips, e.g. use a large pan, avoid skimping on the butter or doubling the recipe (as you can't dip them fast enough before the mixture cools) and, most importantly, after removing the mixture from the heat, stir until the pan just begins to "talk" to you, meaning that there is a slightly "sandy" scraping sound to your wooden spoon as it strikes the sides of the pan.  Then, waste no time spooning up the candy, as it will cool quickly from there on out.
Invited to friends' home for dinner tonight and not wanting to show up empty-handed, I decided to make another batch this morning and get even closer to perfection.  And I did.  The trick I discovered is in the stirring phase once you remove the pan from the heat.  Not only do you need to listen, but you need to look.  The mixture will first turn a translucent amber color, like maple syrup.  But as you continue to stir, it will begin to become almost imperceptibly more opaque.  That moment of transition is the sweet spot, if you'll pardon the pun, and the exact time at which you should begin to quickly spoon up the mounds, as the mixture will cool quickly from that point on and become more "sugary" than desirable.  With a half batch of candy, the magic moment came at about the 2 to 3 minute mark.
Pralines are made from such simple ingredients that you are likely to have on hand what you need at any given moment.  I happened to have on hand coconut sugar, so that's what I used and loved the real south-of-the-border notes the undertones of coconut lent to the candy.
Regardless of the kind of sugar you use, remember, whatever streaks of praline goodness are left in the bottom of the pan belong to the cook alone.
2 1/4 cups cups coconut sugar or 1 1/2 cups natural sugar (I use demerera) + 3/4 cup brown sugar
1/4 cup soy creamer or your favorite plain non-dairy milk
6 tablespoons vegan butter
2 teaspoons agave nectar or molasses
1 teaspoon vanilla
1 1/2 cups pecan halves or pieces
Line a baking sheet with waxed paper, Silpat, or parchment paper.  Attach a candy thermometerto the side of a 4-quart saucepan, but avoid letting the tip touch the bottom.  Place all ingredients in the pan and set over medium-high heat.  Stir occasionally with a wooden spoon as the mixture melts and then comes to a boil.  Once boiling, stir continually until the thermometer registers 238 to 240 degrees, about 3 minutes.  Remove pan from the heat and stir, stir, stir until you feel resistance, candy becomes slightly more opaque, and you hear a faint "sandy" sound of spoon against side of pan.  Then, quickly, drop mixture by spoonfuls onto prepared pan.  Cool completely.  Serve, or wrap individually.