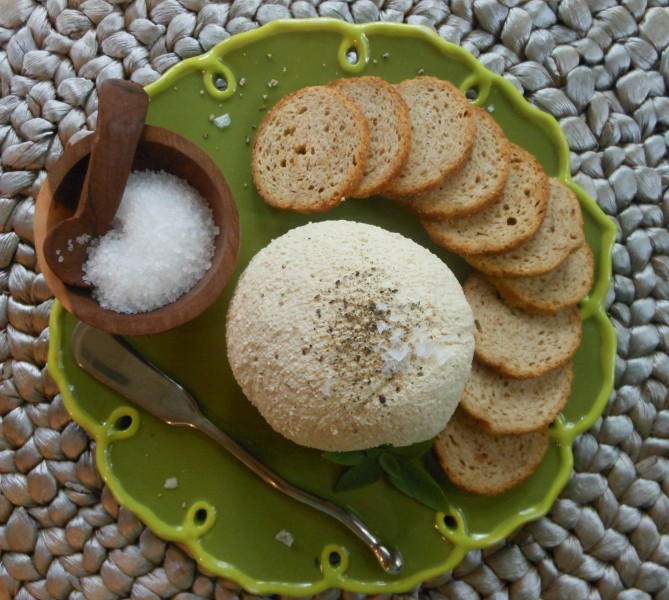 About a year ago, I purchased Artisan Vegan Cheese by Miyoko Schinner.  Last week, I invited one of my vegetarian foodie friends, Trish Pfeifer, over to try out a couple of recipes…with disappointing results…except for our own Homemade Vegan Ricotta (pictured at right)!
I love the cheeses that  I have created both for my blog (search "cheese") and The Blooming Platter Cookbook, but I was intrigued by the promise of Schinner's meltable and sliceable cheeses, as I am not a big fan of market varieities, even Daiya.  Her photos make the cheese look like the real deal.
My Search for Rejuvelac
Many of the cheeses I was interested in called for "rejuvelac," a liquid made from sprouted grains.  I am busy, like everyone I know, so I knew that the number of times the grains must be rinsed, the water changed, etc., not to mention the days necessary for the grain to sprout, were deal-killers for me.  So I thought I would purchase it but, alas, not so much.  No one in our area carries it, but I found it online from Herbspro.com.  It arrived sometime the week of July 7 while I was away–after ordering it on June 26–and it arrived wrapped in bubble wrap in a brown paper box though it was clearly marked "Perishable–Keep Refrigerated."  Oh, and the shipping for 2 bottles, which together cost $9 and change, was $20!  I had decided to splurge for the sake of research.
I emailed the company to ask if  the product only needed to be refrigerated after opening.  They responded promptly that they "weren't trained on the products" and provided the manufacturer's contact information, also in CA.  I called and was told that absolutely the product must be refrigerated every moment of its life and that I should throw it out and contact Herbspro for a refund.  Easier said than done.  I called and had to give my phone number to the person who answered who sent an email to shipping who would be in touch, though they weren't there at that time (and it was mid-morning even in CA).  I told him, after our brief conversation, that I had absolutely no confidence that anyone would call me back, though he assured me.  And, guess what? No one did.
So I called back about 4 p.m. PST and got the same man to whom I explained why I was calling.  He transferred me to "shipping," where the phone rang interminably until I hung up.  I called back for a third time and this time the phone was answered by a woman who knew exactly what was going on with the product–she knew it should have been shipped in a cold pack–and issued a refund.  However, as I explained, they need to ship it with a signature required because I was out of town for a week and, even if it had been shipped cold, it wouldn't have been when I returned home to open it.
Plan B
Without any Rejuvelac, I was forced to choose cheeses that didn't call for it, which limited our options significantly.  One also can't purchase unsweetened plain vegan yogurt here and choosing recipes that didn't call for it would have, again, limited our options down to almost nothing.  The amounts of yogurt called for were small, though, so I bought some plain sweetened yogurt and hoped for the best with Schinner's Cashew Cream Cheese.  I also selected Farmer's Cheese (really, a ricotta), which only called for soymilk, vinegar and salt.  THe latter also involved actual dairy cheese-making methods, which I wanted to try.
Schinners Farmer's Cheese/Ricotta–A Dud!  (my SUCCESSFUL recipe follows at the bottom)
Our first attempt at Schinner's"Farmer's Cheese" was a complete flop.  We added the vinegar to 200 degree soymilk exactly as instructed and watched as beautiful curds formed and then watched as they just as quickly melted, leaving us with nothing but a pot of warm milk.  The problem with this recipe is incomplete instructions.  She never says to remove the pot from the heat after the vinegar is added.  She just says to add the vinegar and that curds will continue to form over the next 10 minutes.  Ten minutes, we assumed, of cooking, since NOWHERE did she say to remove the pot from the burner, nor to turn it off.
I decided to look up homemade dairy ricotta recipes online and both that I consulted said to remove the pot from the heat as soon as the vinegar is added.  That worked beautifull and we were thrilled with our results.  But, Schinner's yield says 2 cups and ours was 1.  Because both online dairy recipes called for dairy milk and cream, we thought we should perhaps compensate for the lack of cream in some way.  So the third time we made it, we reduced the milk by 25% to 6 cups, but kept the amount of vinegar the same at 1/4 cup.  We saved milk and got the same beautiful results–a yield of 1 cup–with no vinegary taste.  The only other change was not to let the curds form over the course of 10 minutes before pouring the mixture through a cheesecloth-lined strainer, but 1, as one of the online dairy recipes instructed.
Schinner's Cashew Cream Cheese–A Disgusting Dud!
"What could go wrong?," we thought.  Afterall, I have made plenty of nut cheeses.  But what I haven't done is make them with live yogurt cultures AND leave them to cure, ripen, or whatever at room temperature as instructed in the book.  The cheese was tasty–albeit not very similar to cream cheese–as soon as we took it out of the food processor.  But as it sat for the recommended amout of time, it started becoming a bit foamy–not the consistency of cream cheese at all–and tasting spoiled.  Schinner notes that the longer the cheese is left out, the "tangier" or "sharper" it becomes.  It was not tangy or even sharp to our palate–as a vegetarian, I loved stinky cheese and Trish still does–rather it began to taste fishy and spoiled.
Because we wanted a firmer product, we weighted ours in a cheesecloth-lined colander and, as instructed, left them out for even more hours, at our respective homes.  The results were completely inedible, as in gag-reflex inedible.  I even tried salvaging mine with sea salt, pepper and olive oil.  But, no good.  Plus, I'm not sure if they would have made us sick if we had been able to choke them down.  Honestly, they were disgusting and we both, independently, threw them out in our outdoor waste bins.
My Recommendation
It appears that we are not the only ones who met with some disappointing results when usuing this book.  Though the 4- and 5-star reviews far outweigh the 1-stars, I read some of the latter who share my concerns.   My advice would be to 1) make MY version of Vegan Ricotta, and 2) if you are still tempted to purchase the book, read a few reviews, and then do so fully informed.  *Evidently, a lot of people are achieving fine results with the recipes in the book.  However, this ain't my first culinary rodeo, I can follow a recipe with the best of 'em, and still didn't achieve edible cheese.  I gave the book to Trish to give to her niece who lives near DC, can hopefully obtain rejuvelac there and, perhaps, have better luck with the rejuvelac-based recipes.  I am left believing that there must be something about working with live cultures and probiotics that is far more variable than the level for which this book takes into account.
*Another vegan cookbook author friend reports that the Meltable Mozza from the book is nice.  One of the reviews on Amazon, however, reports that it didn't work.  Buyer beware.
The Blooming Platter's Homemade Vegan Ricotta Cheese
6 cups unsweetened soymilk
1 teaspoon sea salt
1/4 cup apple cider vinegar
Line a strainer or sieve with 2 thicknesses of culinary cheesecloth (not the hardware store variety), available at some grocery stores, at kitchen shops, and online.  Place strainer over a deep bowl (I used my Kitchenaide mixing bowl) so that the bottom of the strainer won't be suspended in the milk as it drains, or you can just pour off the liquid as it collects.  In a large (4-quart) saucepan, heat milk and salt over medium-high heat to 200 degrees, stirring occasionally.  Stir in vinegar, remove from heat, and very gently stir as big fluffy curds form and separate from the liquid (which would be whey in dairy cheesemaking).  After about 1 minute, pour mixture into prepared strainer and allow to drain for one hour.  It will be soft at this stage and can be refrigerated and then enjoyed like this.  Or you can create a firmer cheese, as we did, by gathering up sides of the cloth, twisting, tying with cord, and hanging from your kitchen faucet or from a wooden spoon set across the top of your deep bowl as I like to do (to keep the dogs out of it!).  Let draindrain for about 8 to 12 hours, unrefrigerated.  Carefully remove cheese from the cheesecloth, cover, and refrigerate.  Note: use the drained off liquid to water your plants!
Simple Steps to Perfect Ricotta–A Visual