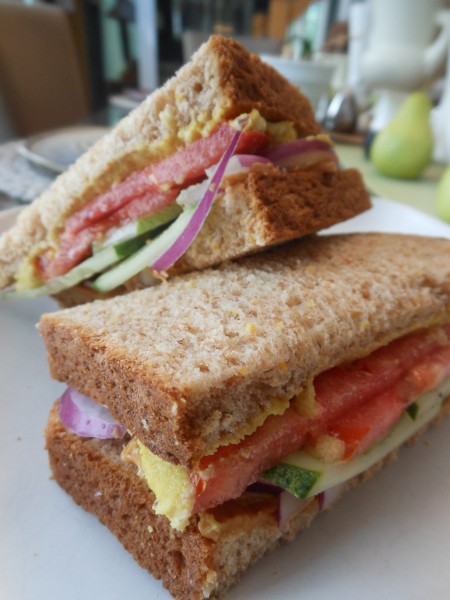 Yield: 1 sandwich (easily mulitplies)
Visits to my family's home in MS always involve food adventures.  Last week, one of them came in the form of a mere description of a sandwich by my good friend since childhood, Margaret Deavours, who had heard about it on, of all places, NPR.  This sandwich  has become her go-to and I now see why!
Called *Diane's Dad's Sandwich, it consists, in part, of summer garden favorites: thinly sliced vidalia or red onion, cucumbers, and tomatoes.  These fresh ingredients are "sandwiched" between a top layer of (vegan) cheese ( white cheddar is used in the original recipe) and, believe it or not, a bottom layer of crunchy peanut butter.  Stacked high between 2 slices of whole grain bread–untoasted for ease of eating–this sandwich is a winner in more ways than one!!  *Be sure to read all about the sandwich by following the link.  Recipes entered into the contest had to be accompanied by a story; it is NPR after all!
Margaret made the sandwich sound so intriguing that I created a special Vegan Sharp Cheddar Cheese just so I could partake because, apparently, the magic of this sandwich is attributed not only to it's fresh and unusual combination of ingredients–unusual, at least, for a sandwich–but the precise order in which each and every one of them hits one's palate.  That being the case, be sure not to flip the sandwich as you lift it from plate to face!
Margaret's only addition is, to me, essential because I tried it with and without:  fresh basil or cilantro in keeping with the Thai flavor profile (not pictured below, as I added it later and LOVED it).   To stay even more true to that profile, I chose Thai basil with it's hint of anise, and will never make it any other way–wowza!   Because fresh herbs are an add-on, I wasn't sure where to place them in the all-important stacking order, but I chose the middle, between the cucumber and tomato.    Other than swapping out the cheese for my delicious vegan version and adding a sprinkling of sea salt and freshly ground black pepper, the only other change I made to the directions was to soak the red onion in unsweetened soymilk for a few hours to temper some of that peppery bite and strong aroma.
Don't be put off by the peanut butter!  Besides the synergistic effect of all the ingredients, it is probably the peanut butter that makes this simple sandwich so extra-special!
2 slices whole grain bread, untoasted
1-2 tablespoons crunchy peanut butter
1 thin slice of vidalia or red onion (to rtemper strong flavor and aroma, soak in soymilk for a few hours, covered in refrigerator)
4 thin slices cucumber
Several fresh Thai basil leaves (you may substitute Italian basil or cilantro)
2 thin slices tomato
Sea salt to taste
Freshly ground black pepper to taste
1-2 tablespoons Vegan Sharp Cheddar Spread (recipe follows)
Spread 1 piece of bread with peanut butter and then layer on ingredients in the order given.  A note to you sandwich flippers: be sure to eat the sandwich with the peanut butter on the bottom!
Vegan Sharp Cheddar Cheese Spread
2 cups raw cashews, covered in 2 cups water and soaked overnight
1/2 cup white miso (which is actually golden; this amount is needed for that "sharpness" unique to cheddar)
2 tablespoons nutritional yeast
1 teaspoon garlic powder
1 teaspoon onion powder
1 teaspoon turmeric (for color; I decided to go for a yellow cheddar for more color)
1/2 teaspoon mustard powder
1/4 teaspoon sea salt or to taste
1/3 cup dry champagne, prosecco, white wine or beer (a non-alcoholic wine or beer may be substituted)
Place all ingredients in bowl of food processor and process several minutes or until smooth, scraping down sides of bowl as necessary.  Store leftovers covered in refrigerator.