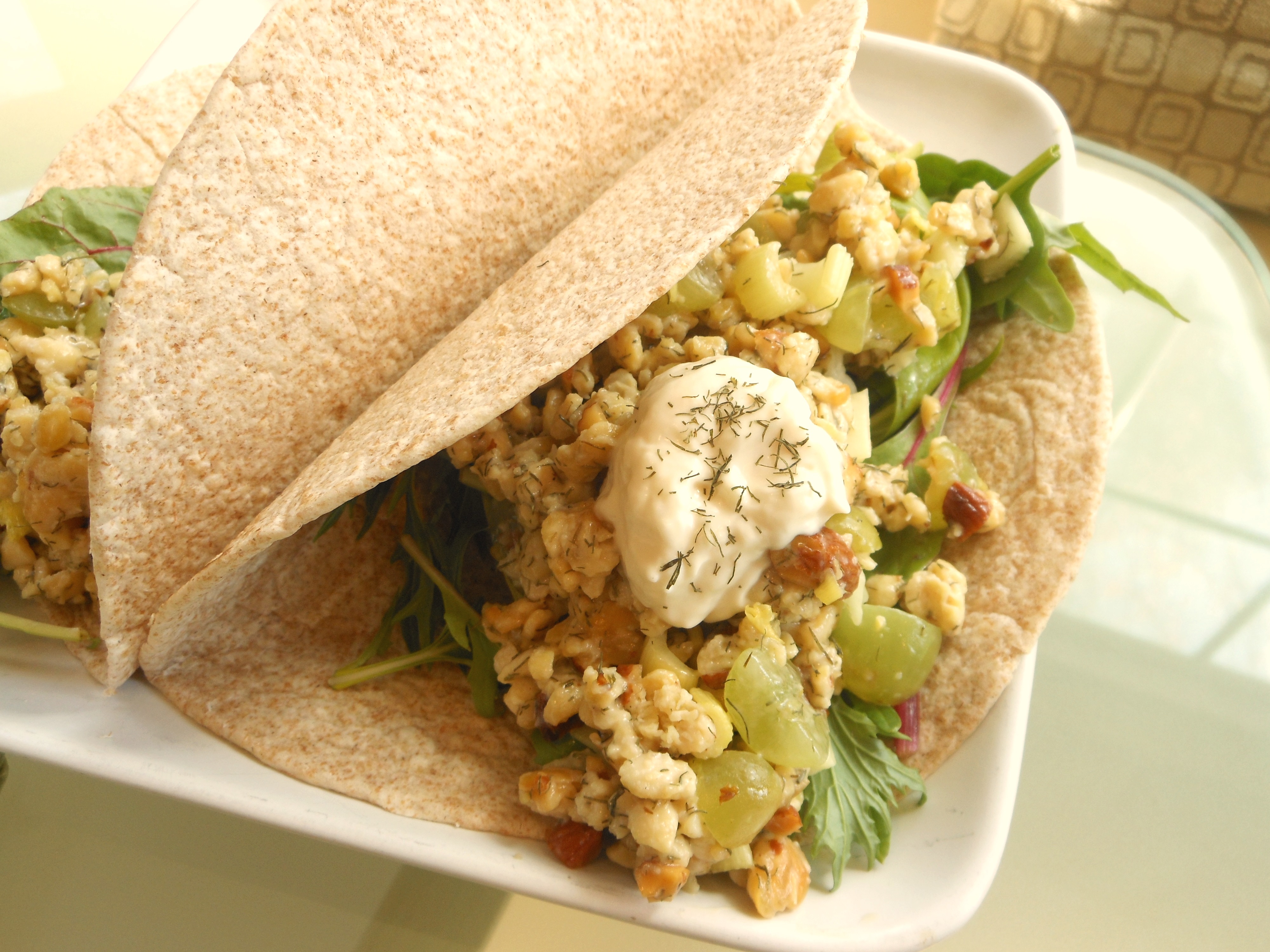 This salad from The Blooming Platter Cookbook is a personal favorite and drew raves at a recent cooking demonstration I was invited to give for a group of women fairly new to veganism  who wanted to know more about cooking with some of the vegan proteins, like tempeh and seitan.  I knew you will love it too!
Grapes add color, moisture, and natural sweetness to this hearty salad, while nuts add depth of flavor, crunch, and nutrition. In addition to being terrific in a whole grain sandwich, the filling is also great with crackers, celery sticks, or in a lettuce wrap. Some people prefer to steam their tempeh before using in recipes to mellow the flavor – this recipe allows for that option.
And as you can see in the top photo, this salad also makes a delectable soft taco or, at bottom, a scoop of deliciousness on a bed of super-greens.
Yield: 4 servings
16 ounces tempeh
Sea salt
1 cup green seedless grapes, quartered
1/2 cup smoked almonds, coarsely chopped
1/2 cup chopped celery
2 tablespoons minced dill
6 tablespoons vegan mayonnaise
2 tablespoons maple syrup
1/4 teaspoon garlic powder
Freshly ground black pepper
8 slices whole grain bread
1. Preheat the broiler. Steam the tempeh for 10 minutes, if desired. Season both sides of the tempeh with salt and broil 2 to 3 minutes per side. Set aside until cool enough to handle.
2. In a medium bowl, combine the grapes, almonds, celery, dill, mayo, maple syrup, garlic powder, and salt and pepper to taste. Crumble the tempeh and add it to the bowl and combine gently with a fork to mix well. Taste and adjust the seasonings,
if needed.
3. To serve, divide the mixture onto four slices of the bread, top each with another slice of bread, cut each sandwich in half and serve.
Variation:  Make the recipe above with these substitutions: red grapes for green grapes; toasted walnuts for smoked almonds; orange bell pepper for celery; tarragon for dill.